Wesleyan Theater Professor Ron Jenkins was invited to present a new work at a Harvard University conference on race, class, and education called Disrupting the Discourse: Discussing the "Undiscussable'', sponsored by the Graduate School of Education's Alumni of Color, March 2-3, 2012. The work by Jenkins, which was commissioned by the Center for the Arts at Wesleyan as part of Feet to the Fire: Fueling the Future and was presented as a reading at Wesleyan on September 28, 2011 under the working title Recylcing Pain, has been revised and retitled To See the Stars.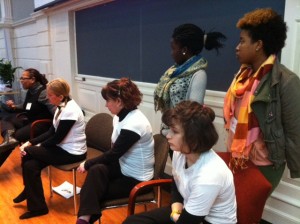 The play is based on interviews conducted with participants of Jenkins' prison education program inspired by Dante's Divine Comedy and the Department of Justice Report on the Federal Prison Industry's electronic recycling program. The play serves as a reminder that the importance of conserving and recycling the human resources in our jails is no less important than the challenge of conserving and recycling the natural resources of the planet.
"The play is an outgrowth of my prison outreach class," Jenkins described. "I was happy to present it for a conference at Harvard that focused on the issue of race in education, because the prison system is one of the most blatant examples of racial injustice in American society, and the course gives students a chance to learn about that system from the inside and do something to help change it. The title of the conference was "Discussing the Undiscussable", and I think it was important for the students of color in my prison outreach class to be part of a national discussion about race that included formerly incarcerated women of color, whose voices are rarely heard in public discourse. In addition to performing and participating in the post-performance discussion, my students had a chance to listen to Harvard Professor Sara Lawrence Lightfoot's eloquent keynote address on the challenges that higher education faces in regards to social justice."
Amber Smith '13, who took the prison outreach class last year, expressed her experience at the conference. "It's hard to come from an affluent college and go into prison, but these are people who are just like us. We are all related to them, because we are all affected by the prison system and we have to do something to help."
Amber Smith '14, Esi Quagrainie '14, and Alma Sanchez-Eppler '14 sang during the performance. The performers with them were Saundra Duncan, Lynda Gardner and Deborah Ranger, who also performed at Wesleyan for Recycling Pain.
To See the Stars was also invited to perform at Brown University on March 1 as part of Arts in the One World: A Life's Work conference. The conference focused on best practices for art in the prison system.