Ben Firke '12 sits down with Sarah Wolfe '12 to discuss his theater experience at Wesleyan, including the upcoming production of his play "Clem and Paul Build a Fort," running March 1 to March 3 at 9pm in the '92 Theater.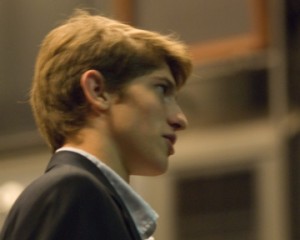 Ben Firke '12 has been writing plays for ten years, getting his start at theater camps when he was twelve. He was lucky enough to be able to see his in-progress scripts read by semi-professional actors, brought to the camp by director Elyse Singer, who runs the Hourglass Theater Company in New York City. These experiences, and finally getting to see his plays performed by the actors at the camp, gave him his first love for theater.
"I learned very early on in the process of being in theater to be flexible and roll with the punches. I learned that how you see it in your head isn't how it's going to be on stage, and also how it is in your head may actually be worse that what appears on stage. These actors know what they're doing."
This has been a motto for Firke as he's written and produced plays while at Wesleyan. The plots of his scripts have been about as varied as the playwrights he considers inspirational, including his friend and mentor Amy Herzog ("4000 Miles", "After the Revolution", and "The Wendy Play"); Edward Albee ("The Zoo Story", "Who's Afraid of Virginia Woolf?"), who Firke was lucky enough to be pen-pals with for a time; Paula Vogel (go see "How I Learned to Drive" this weekend at 7pm in the '92!); Sarah Ruhl ("Melancholy Play", "Eurydice"); Ionesco; and Shakespeare.
Through Second Stage Firke has written and produced three plays, and directed two of them. The topics have been highly varied, from "How to Be a Man in West Belfast" (directed by Justin Wayne '12), which was about growing up during the Troubles in Ireland, to his current project "Clem and Paul Build a Fort", which opens this Thursday at 9pm in the '92 Theater.
According to Firke, "Clem and Paul" is about "a bunch of young people who really care about doing the right thing but they don't know what the right thing is." The play addresses the concerns that all graduating seniors have, of what comes next, and how to make the right choices for the future, but it uses a unique lens to do so.
"Two students, Clem and Paul, have a one night stand, and ten months later Clem shows up and tells Paul that she's decided to keep the kid, and he needs to decide whether he or not he's going to be there for the kid." More than just the issue of how to deal with early parenthood, the play is about the relationships that develop in college, between people who barely know each other and people who are already very comfortable with each other. Firke was especially interested in male friendships and how these relationships are different or similar to male-female relationships.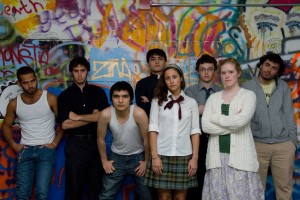 Along with last spring's "Shovels vs. Shubert", which Firke wrote and directed, his fourth project at Wesleyan was also what he considered to be his first serious play, "Mark David Chapman: Live in Concert". "It was a pretty dark drama about a record producer whose career has stagnated. He ends up producing an album (and then a concert) by Mark Chapman, the man who shot John Lennon, and how he finds himself identifying with rock n' roll's most notorious murderer." It was done as a staged reading during Second Stage's Outreach Weekend in the fall of 2008, but it was also produced in 2007 at the Blank Theater Company's Young Playwrights Festival in Los Angeles. The production in this professional setting gave Firke an invaluable lesson in editing and working with constructive criticism.
What the budding playwright has learned throughout these experiences is that he just can't quit –  not that he hasn't tried. He related a notable experience in high school while working on a play that just wasn't coming together. In the middle of his school's library, he stood up, shut his computer and yelled "I'm done! I quit!" But sure enough, three days later, he was back at work again. His plans for after Wesleyan are still unclear, and he has wide interests including Government and Educational Policy, but he knows that no matter what he will continue writing plays and hoping to have people read and act them.
"Writing is a very solitary thing, you're up in your own head space. And theater is a very different medium. But if I'm going to be a writer, I'm going to be a playwright, because that collaborative experience is something that I'd never trade for anything."
Don't miss "Clem and Paul Build a Fort" Thursday, March 1 through Saturday March 3 at 9pm in the '92 Theater. Written and directed by Ben Firke '12, Stage Managed by Jillian Ruben '12 and starring Michelle Agresti '14, Matt Lynch '15, Eli Timm '13 and Sarah Wolfe '12.