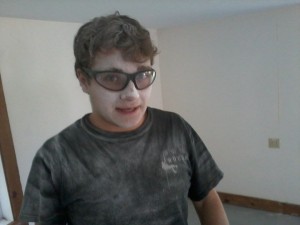 Evan DelGaudio '12 is a senior specializing in lighting and set design for theater and dance. A Theater and Math double major, he is also on Second Stage Staff, and has worked on more than eleven shows as a designer here, from lighting "Yalta" his first year here, to doing set and lights for "Pillowman" this past week, and more shows to come this spring! Sarah Wolfe '12 sat down to talk with him earlier this week about design, Wesleyan, Second Stage, and the future!
Q. You transferred here from Brandeis. Why did you choose to do so and are you happy with the choice?
I knew when I was starting college that I wanted to be a math and theater double major, and I could have done that at Brandeis, but I really did not like the math department there. And the theater department seemed really focused on their graduate students. People I knew that were very talented as undergraduates had the privilege when they were seniors of assisting a grad student on a design. And I thought 'that doesn't sound like a great way to learn.' I think it was pretty obvious midway through the year that I wanted to transfer. I don't regret anything about my transferring experience, I think it worked out great. I feel totally integrated into Wesleyan.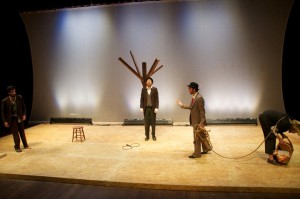 I joined Second Stage right at the end of my first semester in the fall. I knew student theater was something that I wanted to do, it was something I'd done in high school and at Brandeis, so I applied. It worked out well that the Buildings and Maintenance Liaison, who is in charge of scenery, was retiring at the end of that year, so it gave me a role to step up into. I've had a great experience on Second Stage staff and I'll be on it until the end of this semester.
Q. What are your plans for after graduation (the dreaded question…)?
I've worked for the last three summers at The Weston Playhouse Theater Company, a small summer regional theater in Vermont. I'm going back for a fourth summer, this year I'm going to be the Assistant Technical Director. They're summer only, so in September I'll be looking for jobs, probably in New York or Boston, but definitely staying on this coast. I've thought about a lot of things, I've thought about going on tour for a while, I think that's a good thing to do while you're young, doing a Broadway Across America tour or seeing what kind of permanent employment is available – hopefully designing and doing my own shows on the side.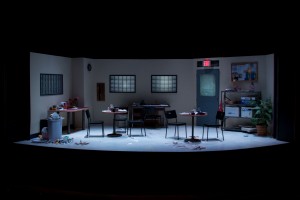 Q. Can you talk about your recent experience with "Pillowman", which kicked off the spring Second Stage season? 
Nate and I knew we were going to "Pillowman" since April, and I think we both see it as our big capstone project. I think the thing that appealed to me about "Pillowman" is that it's completely free. It's very much a blending of realities, it allowed a lot.
Q. What's your first step as a designer, after you've committed to doing a show?
It always starts with the text. I'm very glad that I'm a theater major, because I do enjoy reading the plays. People often ask 'Why do you go to Wesleyan, because you don't really learn set design or set construction like you would at a conservatory.' But it's because I do enjoy the study of theater and reading plays, so it always starts with the text, pulling out the mood, action and theme of this piece, what the story is that this team wants to tell. Talking with the director and really just tailoring the vision to what we're trying to create in this one piece. And I think from there it's just read the text a lot. Get to know it really well. For the shows that I did last fall, I really worked over the summer – I thought about "The Last Five Years" almost every day, listened to the music, a song or two, kept it in my head. You're trying to create a world for this play to take place in, so I just try to completely immerse my brain in it.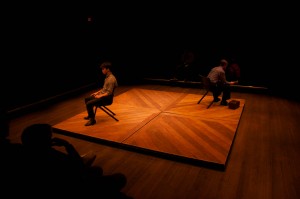 There's always some moment in tech week or production week where it finally feels like the vision is up on stage. A lot of the time I don't enjoy the building or the painting of it. That's the boring part, I want to see it up on stage. But there's definitely a time when most of the scenery is up, everything is painted just right, and you see it with the actors on it. I'd say the best part for me is getting to the day when the actors can actually start playing on the set. I can have drawings of things and they look great, I can build something and it could look great, but until someone can walk on it it's kind of useless.
Be sure to check out the other shows that Evan is working on this semester, including "Mao the Musical" (February 23-25), "Title of Show" (April 19-21) and "Urinetown" (March 10-12).