Sarah Wolfe '12 interviews Sara Schineller '12 about Second Stage's "The Last Five Years".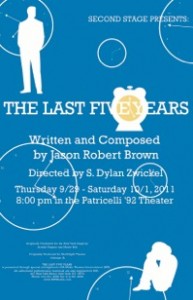 This weekend Second Stage presents its first full production of the season, The Last Five Years by Jason Robert Brown. In a semester with a high quantity of musicals, Brown's piece offers us a different take on musicals. The story follows two people, a man and a woman, traveling in reverse directions through the course of their relationship. The woman, Cathy, played by Sara Schineller '12, starts at the end of the relationship and the man, Jamie, played by Spencer Hattendorf '12, starts at the beginning. They only meet once in the show, at the midpoint. Instead of glitz, glamour, or high kicks, Brown simply tells story of a relationship, using his wonderfully courageous music to illustrate the emotional ups and downs.
I spoke with Schineller last week about the show and the process so far. The senior, a double Theater and Psychology major, has dreamed of doing this show the entire time she's been at Wesleyan.
"I had been waiting, hoping, fingers crossed that someone would do this show before I graduated. Senior year comes around, and there is no show yet." So she decided to take matters into her own hands. She has been passionate about the show for eight years, claiming that the incredible soundtrack has served as her music of choice through almost any period of her life. Realizing that it would be difficult to make the production work as a Senior Thesis project for either major, she decided to take advantage of Second Stage and the amazing student talent on campus.
"I was talking to Dylan Zwickel ['14], and she was looking to direct a small cast musical for the fall." Zwickel, a member of Second Stage, is a first time director, and Schineller says her enthusiasm and dedication to the piece has been inspiring. With Zwickel on board, they quickly assembled a team including Hattendorf, Brianna Van Kan '12 as the Stage Manager, Brian Lee '13 as the Music Director, Evan DelGaudio '12 as the Set Designer and Ross Firestone '12 as the Lighting Designer.
The singers, Hattendorf and Schineller, spent the summer learning the music so that they could immediately jump into rehearsals. With only four weeks between the first rehearsal and opening night, Schineller says that the process has been intense, but incredibly rewarding. With a small cast and crew, the rehearsals have been collaborative and open to feedback from all parties, while still relying on the crucial outside eye of the director.
Schineller views this show as something of a capstone project for her time at Wesleyan, and has been able to use her experiences at Wesleyan to help her character, and the show, come to life.
"I feel like for a Theater and Psych major this show is sort of a gold mine," she quipped. Though her acting classes are obvious contributors, the senior also credited her ability to analyze aspects of the marriage and how each character holds fault in different ways to her various classes in the Psychology department.
At the end of our interview I asked Schineller if there was one thing she would say to Jason Robert Brown, given the opportunity. She responded, "I would probably tell him (aside from being a God among men) how much something that he wrote has meant to me. It's got heart. I think that's the thing, is that it's very real. So I would tell him thank you."
"The Last Five Years" by Jason Robert Brown goes up at the '92 Theater on Thursday, September 29 and runs through Saturday, October 1 at 8pm. Tickets are FREE and available the day of the show at the Wesleyan University Box Office.