Katherine Clifford '14 interviews Hari Krishnan, Artist in Residence at Wesleyan University, on the Spring Faculty Dance Concert: March 2 & March 3, 2012 at 8pm in the CFA theater. Hari Krishnan is teaching the Bharata Natyam and Repertory and Performance classes this spring. The Spring Faculty Dance Concert will feature the U.S. premiere of "Quicksand" and the world premiere of "Nine."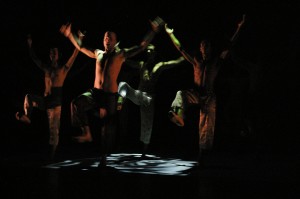 The Wesleyan dancers performing the world premiere of "Nine" will include Abigail Baker '12 and Aditi Shivaramakrishnan '12 (both performances); Arianna Fishman '13, Allison Greenwald '14, Christian Lalonde '13, Francesca Moree '14, Cristina Ortiz '15, Sarah La Rue '12, and Rachel Rosengard '14 (March 2); and graduate students Taylor Burton and Natalie Plaza, Dawanna Butler '15, Arin Dineen '13, Jessica Placzek '12, Claire Feldman-Reich '12, and Tess Scriptunas '14 (March 3).
Q: Tell me about the piece "Quicksand," which will be performed in the Spring Faculty Dance Concert; what does it explore, and how does your work combine South Indian Classical Dance, or Bharata Natyam, with contemporary influences?
A: Both pieces are about the search for identity, the search for selfhood. This is the overarching theme that binds the pieces together. "Quicksand" is a piece that I choreographed in March 2011 for a high profile dance festival in Canada. The work I do usually challenges dominant discourses about culture. I try to subvert popular culture, and I try to challenge stereotype and cliché. "Quicksand" is a prime example of this prominent theme. The inspiration of the work came from nine archetypal emotions popular in Indian classical dance. These nine emotions are usually hyper-exaggerated and done in a specific way by a classical dancer, usually female. I decided to subvert that popular depiction by using nine contemporary male dancers, and by creating a postmodern interpretation for those nine emotions.
"Quicksand" is like a metaphor for my life; my name is Hari Krishnan, my ethnicity is Indian, I teach Bharata Natyam and contemporary dance at Wesleyan. I have a dance company that does a whole range of work in Toronto, Canada. I choreograph and perform around the world: in Europe, Malaysia, Singapore, and India. Wherever I go and perform my work, some of the comments I get are that my work is not Indian enough, it's too Western, or that my work is not Western enough, it's too Indian. All those opposite reactions to my work put me in an interesting location as a dance artist and in terms of my identity. I use "Quicksand" as a metaphor to demonstrate that complexity; it is a personal meditation on identity and selfhood. From a dance point of view, it is an engaging, physical, high-energy work by nine top Canadian male dancers who are going to showcase a new, unique movement vocabulary that blends Indian classical gesture and contemporary dance body movements.
Q: What inspired your other piece "Nine," and how does it further explore these themes?
A: As a parallel story to "Quicksand," the Repertory and Performance class at Wesleyan will do the same interpretation as "Quicksand", but in a "classical" mode, using nine dancers and the same nine emotions. By "classical," I mean a classical Indian style of movement, but with contemporary presentation in terms of lighting design, spatial dynamics, and the dancers' relationships with each other.
Q: What is unique about the show and how do the two pieces come together to form one coherent meaning?
A: What's unique about this show is that it's one idea, nine emotions, and two interpretations of this idea: one postmodern and one classical, which are displayed through radically different works. It is the culmination of my own artistic, research, and pedagogical practices. It also allows me to blend my two worlds; I'm artistic director of inDANCE, the Toronto-based dance company, and I've been at Wesleyan for over ten years now.
Q: What do you hope people will gain from the show? Why should people come see it?
A: This show is for anyone who is interested in dance, design and music. We have a U.K.-based composer who composed the music for "Quicksand." He has combined electronic and computer-generated music with music from popular culture. "Nine" consists of an amazing Indian classical dance call, which is very lush and rich. Visual design and costume design are also very strong; "Quicksand" is a multimedia work. The lighting design for "Nine" has been specially lit by Theater Professor Jack Carr.
This is for anybody interested in movement and high-energy physicality. It is about celebrating diversity and experiencing humanity in various hues, colors, and tints. It is a bizarre look at life, and a fun, accessible, and engaging evening of dance. The dance department reflects the concert in terms of its openmindedness and the eclectic dance courses we offer in the dance department: from Javanese to Ballet to Modern to Bharata Natyam to West African. This is the kind of concert that can really thrive at Wesleyan, and it's a testimony to the open-minded, progressive attitude at Wesleyan.
Finally, I tell people that it is a must see for "anyone interested in dangerous liaisons and delicious diversity." I hope that the audience will come in with an open-minded attitude, and not expect either Indian or contemporary dance; this is "Wesleyan dance."