Hannah Cressy '13 continues her report on the service learning factor of Wesleyan's interdisciplinary course Ritual, Health, and Healing.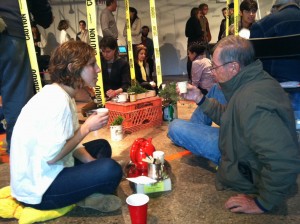 Sunday, April 22 was our last in Brooklyn, and the culmination of all the conversations, tours, library research, video editing, and personal interviews we've conducted over the past month.  We've been traveling to Greenpoint-Williamsburg nearly every weekend in April to the Arts@Renaissance space of St. Nick's Alliance to learn about the area from locals. We developed projects to document the neighborhood's rich history and bring awareness to issues of trash distribution, educational equality, pollution, health, and space preservation.  Our goal for Sunday was to present our findings to members of this community and to talk with them about their viewpoints on these issues, and we are very happy that the weekend succeeded in promoting neighborhood communication, honoring long-time local activists, and beginning plans for our professor Jill Sigman's upcoming project in Arts@Renaissance.
We spent Saturday finishing up and rehearsing our presentations, and were happy to get a taste of the local food scene in Williamsburg!  Our class has grown very close since January, as we meet two to three times per week; the same can be said for our relationships with both of our professors.  We've been very lucky to spend weekends with Gillian and Jill outside the classroom environment; hierarchal boundaries dissolve and a more egalitarian group-consciousness arises when working on real-world projects such as ours.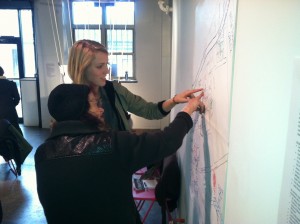 On Sunday, we invited anyone living in Greenpoint-Williamsburg to stop by Arts@Renaissance during the afternoon to hear about our projects and to join in a community discussion.  We were a little nervous and very excited to see the final products of our classmates' hard work.  There was no need to worry; the room
was full of community members the entire afternoon, ranging from their 20s to their 80s, both lifelong Greenpoint residents and new transplants.  The afternoon began with a witty ukelele performace from a former Ms. Greenpoint, who sang of public bath houses, Brooklyn's trash issues, and the Exxon oil spill.  Then we moved into student presentations.  Several of my classmates made an incredible short film to document the overwhelming number of open-air trash dumps in Williamsburg and locals' accounts of their asthmatic effects; another group created a walking tour past these transfer stations.  Another group focused on the inequality and self-confidence issues that arise with charter school invasion, and my group led attendees through a short history of the hospital complex that now houses St. Nick's.  Interactive stations around the room allowed community members to draw their memorable neighborhood places on a big map, to look through news archives, or to listen to interviews with local members of the National Congress of Neighborhood Women.  The afternoon was a fantastic break from the chaos of everyday life for everyone involved; we gave ourselves time to reflect, connect, plan, and learn about each other.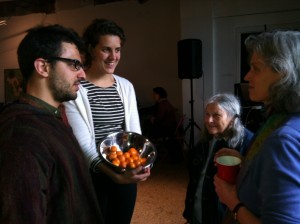 It is this separation from the ordinary that allows a ritual, and its subsequent changes in consciousness or action, to occur.  What we've learned in this class is that one need not travel abroad or join a religion to participate in ritual since we do it all the time.  The next part of the afternoon employed a ritual familiar to most of us: that of serving tea.  Jill, one of our professors, has built six "huts" around the world, as I've mentioned in previous posts; in preparation for hut #7, she set up a tape scaffold on its upcoming site, and prepared tea in the center made with herbs grown in a nearby urban garden.  We sat in a circle on her handmade T-shirt pillows and invited attending community members to join us in one-on-one conversations about their visions for the hut and opinions about pollution and garbage in the area.  I was surprised and enlivened by the openness of every attendee to our project.  Eighty-five year old men sat down on floor pillows and drew on small squares of paper, imagining what this hut will look like.  Tea continued for an hour or so, biscotti and fresh bread were passed around, and we "talked trash".
By the end of the day, nearly everyone who'd shown up was still there, talking with neighbors or with us,
listening to interviews, or marking their childhood homes on the map.  The hut scaffolding was covered with clothespins holding pieces of paper; people had drawn ideas for the hut or written down which items of trash should be included.  We were exhausted from the weekend, but so thankful for the community members' participation and fantastic ideas.  Though our Brooklyn trips have ended, we're continuing to finish up our projects here at Wesleyan and will have final products ready in several weeks!