During the fall semester of 2014 students in the Writing About Dancing Seminar at Wesleyan University have been documenting and archiving Associate Professor of Dance Katja Kolcio's Fall Faculty Dance performance To Not Forget Crimea: Uncertain Quiet of Indigenous Crimean Tatars and have created a Facebook page with photos, drawings and writing about the various talks and dances that were a part of the event.
To Not Forget Crimea: Uncertain Quiet of Indigenous Crimean Tatars was done in collaboration with New York Crimean Tatar Ensemble Mus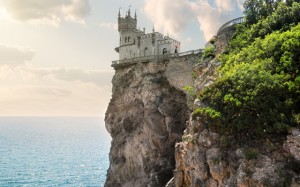 ical Director Nariman Asanov and Yevshan Ukrainian Vocal Ensemble Conductor Alexander Kuzma. It explores issues of historical memory, cultural narrative, and the quest for human rights, as they relate to the history of Tatars, native inhabitants of Crimea, and their complex relationships with Ukraine and Russia. The performance  incorporated live music by the New York Crimean Tatar Ensemble directed by Nariman Asanov; the Yevshan Ukrainian Vocal Ensemble conducted by Alexander Kuzma and bandurists (plucked string folk instrumentalists) Olya Fryz, Larissa Krasij, Irene Kytasty Kuzma, Alina Kuzma, Joanna O'Flaherty, Luda Yurkevych, and Stefan Zaets; Julian Kytasty; the Wesleyan University student vocal group Slavei; and Wesleyan student dancers.
This project was co-sponsored by Wesleyan University's Center for the Arts, Dance Department, Government Department, Allbritton Center for the Study of Public Life, and the Ukrainian Selfreliance New England Credit Union. Made possible in part by a grant from Wesleyan University's Creative Campus Initiative, funded by The Andrew W. Mellon Foundation.
This event was also part of Muslim Women's Voices at Wesleyan.