Erinn Roos-Brown, the CFA's Campus and Community Engagement Manager, discusses hip hop artist Meryem Saci's residency as part of the opening week of the Muslim Women's Voices at Wesleyan program.
Last week, the Center for the Arts at Wesleyan University hosted the opening events for the Muslim Women's Voices at Wesleyan program. There was an fantastic Islamophobia panel discussion on September 18 as well as hip hop workshops and a performance with three women who either identify as Muslim or are of Muslim heritage. One of those women, Algerian-born/Montreal-based Meryem Saci, was in residency at Wesleyan for the entire week. I had the great pleasure of getting to know her when I escorted her to her class visits, lunches and dinners with students and faculty, and interviewed her for the documentary we are creating around the project.
Meryem had a busy week. She visited two Arabic language classes and a French literature course, "Negotiating Gender in the Maghreb." She watched and discussed the film Battle of Algiers in religion course, "Muslim/Western Engagements in Film and Performance," and shared her story in "World Music". She had dinner with students at the Turath House, Wesleyan's program house for students who identify as Muslim or are of Arab descent, and she was invited by the students in Wesleyan's RAP Assembly to be part of their weekly freestyle rap cipher.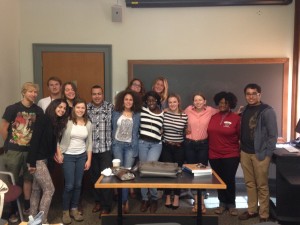 Why do we ask artists to do such extensive residencies? At the CFA we believe in giving our campus community more opportunities to engage with artists and in turn giving artists opportunities to connect with new audiences. This is particularly important for the Muslim Women's Voices program because we want to give people an opportunity to question what they really know and their stereotypes on Muslim women.
This is something that Meryem definitely did.
She speaks three languages. She writes her own songs. She was raised by a single mother in Algeria. She is working on releasing her first solo album. She's a relator. She grew up during her country's civil war. She can walk for blocks in three-inch wedges. Her high school in Montreal had over 80 ethnic groups in attendance. She sang Whitney Houston and Maria Carey songs as a teenager. She tried to write love songs in English as a child before she even knew the language.
This project also gave Meryem an opportunity to question her own stereotypes of college students in America. She was surprised to learn that American students are studying the Meghreb and told us that she never would have thought that Americans would ever be studying the part of the world where she grew up. At Wesleyan she found students who shared her interest in languages, hip hop and just learning itself. She asked them as many questions as they asked her and never hesitated to be her most authentic self.
By the time she took the stage on Saturday night in Beckham Hall she had a loyal following of Wesleyan students whom she had met throughout the week. In their excitement to see her they closed the gap in front of the stage and danced away. And I was right there with them. I think many of them, like me, no longer saw a woman who grew up in an Islamic state in North Africa, but instead saw an amazingly cool, talented and funny twenty-something sharing with us her creativity and contagious enthusiasm.