Creative Campus Intern Sewon Kang '14 discusses her experience in the Creative Campus course "Blood, Muscle, Bone: The Anatomy of Wealth and Poverty."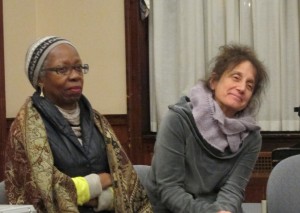 This semester I'm taking "Blood, Muscle, Bone: The Anatomy of Wealth and Poverty," a Creative Campus course taught by Liz Lerman and Jawole Willa Jo Zollar. In my time at Wesleyan, I've had the privilege of interning for Creative Campus, an initiative that unites ideas and gets people thinking outside of their comfort zones.  Creative Campus hosts a wide variety of artists on campus, inviting them to employ their creative processes within the university setting for the mutual benefit of the artist and the Wesleyan community. Artists can participate by co-teaching courses with professors, experimenting with students in the classroom, creating commissions, and collaborating in community-based projects.  Liz and Jawole are choreographers, both heavily engaged in interdisciplinary work and community/cultural organizing.  In the spirit of Creative Campus, they are also teaching with professors from the fields of African American Studies, Economics, English and Psychology.  "Blood, Muscle, Bone" is designed to train and support students interested in discovering the bridge between academic and artistic research through the vehicle of a new performance work of the same name.  The course and the work explore the human price of socioeconomic inequalities, with particular emphasis on how to unveil and address hidden inequities through artmaking and various forms of activism.  Such collaborative Creative Campus projects allow artists to utilize resources that are unique to the university setting throughout the critical period of conceptual research that informs and drives their work.  The artist-university partnership is also designed to engage students and faculty members from diverse academic areas, bringing their different ways of knowing in communication with the arts.  The other students enrolled in "Blood, Muscle, Bone" have backgrounds in chemistry, music, and American studies, while my background is in Art History and History. The goal of the course is to open up traditional academic boundaries and encourage the exploration of a profoundly complex issue from multiple and varied perspectives.
I've found that the professors, artists, and students who tend to participate in Creative Campus projects are interested in exploring topics that are deeply multifaceted, so much so that it is virtually impossible to study these issues from one perspective alone.  I enrolled in "Blood, Muscle, Bone" because it addresses subject matter that is, in my opinion, impossible to study without taking the body into consideration.  Socioeconomic conditions/realities take place within the individual and collective body and should be explored within the context of the body and its social environment. The ideas that are compelling and asking to be probed require collaboration that is open to questioning from all possible angles and areas of expertise.  Creative Campus gives people a safe space in which to ask these questions and bring seemingly disparate ideas in communion with one another.  This method has been so liberating that participants of Creative Campus have found themselves completely changed upon being encouraged to think and do in this way.  Because of my work in this program, I've been witness to these very real transformations.  I read one student assert that the artistic element of a course "helped [her] to embody and reflect on our more traditionally academic material, and incorporate motion and emotion into a realm that is all too often static and emotionless."  Another student said that the opportunity to consider something as complex as climate change through both artistic and academic impulses "has completely altered [her] understanding of the world."  These are the kinds of intense impacts that Creative Campus has been able to instill in Wesleyan students, and I'm very much looking forward to experiencing it for myself.
"Blood, Muscle, Bone" was also appealing to me because of its emphasis on activism and the utilization of various activist tools to explore topics.  When it comes to academic pursuits, Wesleyan has always encouraged me to think about the whole picture, giving me the tools to consider all facets of an issue.  There are whole fields of study on campus dedicated to this idea that learning can only truly be achieved through input from multiple channels.  Creative Campus projects have taken this approach one step further by allowing me to embrace this way of thinking in my personal life, in addition to my pedagogical outlook.  Since I've been here, I've been lucky to meet and talk to many interesting artists like Eiko Otake, of Eiko + Koma, and Lucy Orta, of Studio Orta, who have generously taken the time to show students how to create with intention.  Artists employ research methods and ask questions that are challenging in ways that thrill and excite students who are in the process of discovering their own interests and passions, which is a major reason why I decided to take this course.
The issues that I've been challenged to think about and feel in my body at Wesleyan have forever changed me as a thinker and as a human being who aims to make an impact.  Since getting involved, I've been inspired to find my own form of political activism.  "Blood, Muscle, Bone" deals with the realities of wealth inequality, a topic that has always been on my mind.  Growing up in New York City, I've been exposed to both ends of the socioeconomic spectrum and have been amazed by how polarized the experiences of the rich and the poor can be.  Oftentimes I find this issue intimidating to talk about because of how pervasive and global the problem seems to be.  How does one begin to approach being proactive about poverty and how it affects the human mind/body?  How can one person, or a small group of people create something that speaks to these issues and affects communities in a positive way?  These are the questions I bring to the table before our first class intensive and I look forward to being able to explore these issues with my instructors and peers.  I know that the knowledge and experience gained from this course are going to give me the courage and motivation to tackle issues in ways that extend way beyond the scope of the classroom and long after I graduate in May.