Rebecca Seidel '15 interviews the free exhibition "Faces of China, 1981: Photographs by Tom Zetterstrom," on display at the Mansfield Freeman Center for East Asian Studies Gallery through Friday, December 6, 2013. The exhibition will be closed from Tuesday, November 26 through Tuesday, December 3, 2013.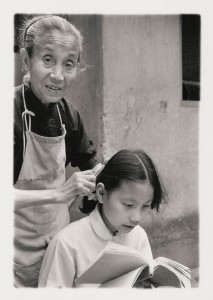 In an interview this past August with curator Patrick Dowdey, photographer Tom Zetterstrom spoke about the approach he took to capturing everyday life in China through portraiture—a project for which he was commissioned by the Yale-China Association back in the 1980s, and whose results are now on display for the first time in nearly three decades. Above all, he said, he tried to get as up-close to his subjects as possible, ideally shooting at arm's length.
"Dangling around my neck were three cameras, so I presented myself as the obvious photographer and not someone who was trying to sneak a shot on the run," he said. "So I was able to engage with the subject on an individual level, one on one."
Mr. Zetterstrom's focus on one-on-one engagement shines through quite powerfully in "Faces of China, 1981," a collection of photographs now on view at the Mansfield Freeman Center for East Asian Studies Gallery. His physical proximity to his subjects makes for portraits that are both intimate and inviting. But by interspersing these portraits with photographs of billboards, religious artwork, and other relics he encountered during his visit to China, Mr. Zetterstrom also steps back far enough to capture a bigger and more complex picture—that of a culture in flux.
In the early 1980s, China was still emerging from the shadows of Mao Zedong's Cultural Revolution. In 1981, when Mr. Zetterstrom and members of the Yale-China Association landed in China and started traveling from city to city, the country was moving towards a large-scale transformation, following the path set by Deng Xiaoping's "Reform and Opening Up" policy. As this process unfolded, China became open to foreigners in a way that it hadn't been for years.  Given this new access, many people were eager to get a closer look: what was China like in the midst of these changes? What were the people like? What kind of effect was the reform having on them?
Mr. Zetterstrom's photographs (some in black and white, some in color) offer answers to these questions—or at least fragments of answers—in a rich and evocative way. His portraits document people of all ages and occupations, catching snapshots of simple moments from their lives: a woman gathering tea from the countryside, two friends smoking together, a man caught in the middle of eating a popsicle.  A common feature among these portraits is that many of their subjects are looking straight into the lens, creating a line of communication between the subject and the viewer that is almost startlingly direct.
None of the images seem stiff or posed—even though, as Mr. Zetterstrom emphasizes, "these are not candid shots." The sense of mutual trust between photographer and subject radiates from the page. This rings true with something Mr. Zetterstrom noted in his interview: that he went into this project without any preconceptions about the people he was photographing. As a result, his photographs have a simple and organic quality to them. Though the scenery might be foreign to many Western viewers, the expressions on the subjects' faces are deeply familiar.
While these portraits are timeless in many ways, the other images interspersed with them—images of advertisements, older socialist art, religious artwork—provide a more concrete time frame, offering information about the historical and cultural crossroads in which these people are living. It would be impossible to draw complete conclusions from these images alone, but they do show China in 1981 as a place where residue of an earlier time remains, even as the society as a whole is taking steps forward.
The photos, arranged in a single row along the periphery of the gallery, are accompanied by only a minimal amount of text: after every five images or so, there is a list of each photo's title and the location where it was shot. Mr. Zetterstrom reveals additional information about some of the photos in his interview with Mr. Dowdey, but walking from photograph to photograph without this supplementary knowledge is like progressing through a story with some general themes and key details but no fully tangible plot. This works perfectly given the content of some of the photographs—particularly the portraits, where the subjects and scenery speak for themselves. The objects that are showcased—religious artwork, billboards, a mannequin in a storefront—also tell their own stories, but it was difficult to fully discern their significance at first.
A few laps around the exhibition start to reveal more layers of meaning: a photograph of a dilapidated billboard depicting socialist art, for instance, presents a counterpoint to a newer, better-kept billboard showcasing commercial art. Contrasts and discrepancies like these hint at the direction in which Chinese culture was evolving at the time.
Still, for a viewer with minimal knowledge of the historical context of the photographs, more supplementary information might be helpful. The video of Mr. Zetterstrom's interview is available for viewing in another room at the Mansfield Freeman Center for East Asian Studies, so that's a good place to start. Some transcribed excerpts from this interview are also printed in a pamphlet available in the exhibition room.
Mr. Zetterstrom's approach to photography in China was both deliberate and impulsive: he noted in his interview that he was always carefully and thoughtfully observing his surroundings, but when the opportunity for a meaningful photo arose, he was prepared to seize the moment and act on it immediately. This effort translated into photographs that are at once fleeting and timeless—photographs that give immediacy to sweeping cultural shifts, especially when put in conversation with one another.
By piecing together this conversation for us, Mr. Zetterstrom offers a compelling lens through which to view this pivotal era in China's recent history.  More than thirty years later, given all the transformations China has undergone since those early stages of reform, this lens is more valuable than ever.