Aileen Lambert '16 attends a puppetry workshop with performance artist Dan Froot. Dan Froot and Dan Hurlin's "Who's Hungry" will receive its Connecticut premiere at Wesleyan on Friday, September 27 and Saturday, September 28, 2013 at 8pm in World Music Hall.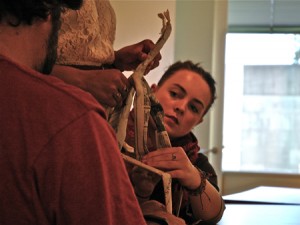 "I'm not a puppet artist, but I really like puppet artists. I aspire to be a puppet artist."
This is how Dan Froot, a performance artist who, in collaboration with puppet artist Dan Hurlin, presents the Connecticut premiere of "Who's Hungry" in World Music Hall on September 27 and 28, introduced himself. At the time, I was attending his "Oral History Through Puppetry" workshop this past Monday, September 23. After that experience, I can now personally say that while my career goals have not changed to "puppet artist," I do have a newfound appreciation for the craft.
Mr. Froot is a performance artist with a long history of work with international theater and dance companies, including the avant-garde theater group Mabou Mines (who Wesleyan presented on the Outside the Box Theater Series in February 2013). In 2008, after previously having worked mainly in theater and dance, Mr. Froot turned to puppet artist Dan Hurlin to create a puppet theater piece about food insecurity in America called "Who's Hungry."
The words "food insecurity" are carefully chosen. Despite the title of the piece being "Who's Hungry," Mr. Froot is explicit that his piece focuses on a more complicated concept than hunger. While "hunger" is defined as the chronic inability to eat the basic three meals a day, "food insecurity" is the chronic inability to be properly fed. It can mean malnutrition, lack of access to proper food, an inability to pay for both food and rent, or an inability to afford food for all family members. Food insecurity intersects with plethora of social issues such as poverty, homelessness, drug addiction, and mental illness. Usually, it is the people who are marginalized from our society who suffer.
When "Who's Hungry" was created, Mr. Froot's goal "was to bring these stories from the margins into the center of society and art." To gather material, Mr. Froot spent months volunteering in homeless/hungry sectors of cities, building relationships with people and their environments. He then found five individuals and conducted ten one-hour interviews with each of them about their experiences. Each interviewee gave him about 250 pages of usable transcript. The 55 minutes of "Who's Hungry" was collected from this research.
Ironically, the concept of food insecurity is hardly mentioned in the piece.
As Mr. Froot says, "The title tells you these people are food insecure, their stories do not."
Food insecurity serves only as a common thread connecting these people, not a central focus of the piece. This is because Mr. Froot wanted to use each person's story to help others see the humanity in these people who are often pitied, dismissed and ignored. His main goal is to reduce stigma—eliminate the "us versus them" feeling and allow the audience to empathize and identify with a score of different people who all are facing issues with being able to consistently obtain enough food.
The use of puppets is targeted to elicit this empathy. Puppets are small and intimate. They are also handcrafted and imperfect. There is no illusion of trying to create something realistically human or the distraction of having a monologue filtered through an actor; the focus can stay on the stories. Most importantly, puppets, as they are obviously representations, require an active audience imagination. In order to be moved by the stories, the audience must be willing to forgo some reality and project some of their own emotions onto the puppet. In this identification with the puppet, the audience can empathize with the main character of each story and will hopefully leave the theater with a greater understanding for the traditionally looked-down-upon people depicted.
Sitting on the floor of the Zilkha Gallery classroom, at Mr. Froot's workshop we transitioned from listening to him explain his process into sharing our own stories about one memorable meal. Students told stories about sharing a "wheat dessert" in Serbia, sushi with fathers before freshman year at Wesleyan, and impeccably planned bargain lobster dinners. Mr. Froot shared his first experience with raw oysters. If any of us felt awkward discussing food after just hearing about people who struggled to feed themselves, Mr. Froot put an end to our discomfort before we even started.
"I am not food insecure," he stated. "Having the ability to adequately feed yourself is not something to feel bad about at all."
Instead, he encouraged us to use the privilege of our food security as a platform to help those who are not. Our casual conversation about food turned into a mini-creative process of our own. After sharing our quick stories, Mr. Froot broke us up into two smaller groups, where we could interview each other further.
The puppets we made in the workshop were a "down and dirty" version of Japanese Bunraku puppets, which are jointed puppets controlled by three puppeteers. Traditional Bunraku puppets are engineered with exquisite detail; ours were made lovingly out of newspaper. A puppet built from newspaper may sound a little "summer camp arts and crafts," but when stood on a table with three puppeteers working all of its parts to maneuver the body, the paper doll came to life before our eyes. These puppets were able to move in surprisingly realistic ways, and I was surprised to see they could even portray emotions in their physicality.
Do not get me wrong—puppeteering is extraordinarily difficult. If one person is out of sync with the other two, the puppet's movement shatters into awkward inhuman contortions. The illusion is only one misstep, one inept readjustment of the puppeteer's hand, from breaking. It's quite a bit of pressure on those people in black behind the dolls!
If I learned anything from Mr. Froot and his work, it is the feeling of fulfillment one gets when their puppet is able to crouch down from standing, lie down, sleep, and then be woken up, all without losing that tiny flame of life present inside the newspaper. It is wonderfully satisfying to be able to push your own life into an inanimate object and to express a character through something as simple as the Tuesday edition of The New York Times.