Emma Gross '15 reviews "Neighborhood 3: Requisition of Doom,"  the directorial debut of Emilie Pass '15 and Gabe Gordon '15, which ran Thursday October 25 through Saturday, October 27, 2012.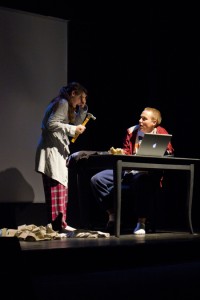 While I have attended plenty of horror movies that caused viewers to gasp out loud, cover their eyes, and grab onto their friends' wrists, before this past weekend I had never attended a play that managed to evoke this same level of fear. Second Stage's production of Neighborhood 3: Requisition of Doom achieved this effect. The play's ability to induce outward horror from its viewers points to the success of its co-directors, actors, and creative team.
Neighborhood 3: Requisition of Doom, written by Jennifer Haley, ran Thursday October 25 through Saturday October 27. The play was part of Second Stage's fall 2012 season. For those not familiar with Second Stage, it is Wesleyan's student-run, volunteer theater organization. Second Stage produces works that are entirely designed, directed, and performed by students.
"Emilie and I first read Neighborhood 3 in our Intro to Playwriting course freshman year," Gordon said. "Throughout the semester we studied a lot of great works, but Neighborhood 3 stood out as a special piece of writing. It is not well known, nor is it by a well known writer, but we both fell in love with it.
Neighborhood 3 tells the story of a tightly regulated suburban subdivision in which parents find their teenagers addicted to a violent online video game. As the story unfolds it is revealed that the game is not strictly virtual, but manifests itself in reality with horrific consequences.
"The play is about familial relationships in a world of suburban pain," Pass said. "Though it contains topical jokes about the internet and video game culture, the text is also a commentary on the timeless issue of how family members relate to one another. It exposes the nuclear family and its values in a way that shows how this model can be pretty messed up."
Neighborhood 3 is laced with dark humor and filled with moments of deep suspense and terror; it is the perfect pre-Halloween story. In one scene, the stage goes dark just as a gothic teenage girl aims a fatal blow at her father with a golf club.
"The play is a thoroughly exciting and engaging text," Gordon said. "When I first read it, I remember visualizing how it could come to life on stage. I thought maybe this meant I should direct it and make that happen."
In the spring of 2012, Pass and Gordon committed to co-directing Neighborhood 3 and assembled a production team including Paul McCallion '15 as stage manager, Cara Sunberg '15 as set designer, Anders Dohlman '15 as master carpenter, Rachel Leicher '15 as lighting designer, Gabe Beaudoin '15 and Eriq Robinson '15 as sound designers, and Joe Gonzalez '15 as costume designer.
Second Stage approved their application before the year's end, and in early September Eva Ravenal '15, Mark Popinchalk '13, Tess Jonas, '15, and Noah Masur '15 were cast as the show's four actors.
"Though Emilie and I had directed a bit in high school, this was really our first significant directorial experience," said Gordon. "An added challenge was that the majority of our team was not involved in Second Stage and had little to no theater background. The entire process of creating this production was a learning experience for everyone involved."
Neighborhood 3 was staged in the Patricelli '92 theater. "The space allowed the play to come to life," said Pass. "Cara and Anders did a fantastic job making the set as visually engaging as the dialogue on stage."
Audience members were seated on either side of the stage, which was composed of a series of platform steps outlined with identical cutouts of white houses. As the plot unfolded and suspense increased, the actors gradually migrated up the steps toward the top and final platform.
"Cara collaborated with Rachel, the lighting designer, to create a house shaped projection screen at the head of the theater," Pass said. Actors posed behind the screen during the robotic, video game style narration between scenes. The characters' blackened silhouettes added a visual dimension that helped blur the line between reality and virtual gaming world.
"I cannot stress how exceptional our creative team was," Gordon said. "And in addition, how lucky we were to find such extraordinarily talented actors."
The four actors faced the challenge of portraying a different character in every scene.  Ravenal, Popinchalk, Jonas and Masur's ability to alter their body language, speaking voices, and emotions to convincingly assume various roles was remarkable.  To effectively transition from a drunken housewife to a fearful mother, or from a frightened boy whose cat has been murdered to the murderer himself requires smart and skillful acting.
Neighborhood 3 sold out Friday and Saturday night, even after seats were added. The evening I attended the performance people left the theater claiming they were afraid to walk home alone.
"I was extremely pleased with the final product and so proud to be part of the production," Gordon said. "Putting on Neighborhood 3 was an incredible experience, and goes to show that you don't need to be a theater person to be involved with theater at Wesleyan. If you are creative and passionate about a project you can make anything happen."
Pass agreed, "It was an incredibly rewarding learning experience," she said. "It underscores the notion that some of the best learning at Wesleyan is done outside the classroom."