Sarah Wolfe '12 speaks with Will Levitt '12 and Damiano Marchetti '12 about their Wesleyan Farmer's Market venture, DW Sandwiches.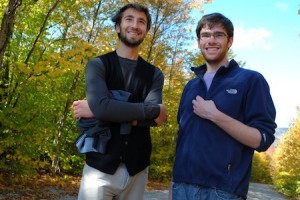 I sat down earlier this week with the two seniors who make sandwiches at the bi-weekly Farmer's Market. Their sandwiches, ranging from Beet Tzatziki and White Bean to Sweet Potato and Coleslaw to Roasted Cauliflower with Quick Pickled Carrots and Leek Mayonnaise, are both diverse and incredibly tasty, speaking as someone who has sampled every single one. Each time the ingredient list surprises me, and yet each time I walk away satisfied, satiated, and impressed.
Will Levitt '12 and Damiano Marchetti '12 have both been cooking since they were young and have continued to make cooking a priority while at Wesleyan, from using the tiny, cramped Nicolson kitchen to finally having their own full kitchen as seniors.
Levitt, originally from Boston, MA, began cooking with his childhood friend. When their passion for food became apparent, Levitt's mother invited them to cook a large dinner she was having. The middle schoolers cooked cod, salmon, mashed potatoes and a few other dishes to rave reviews. This dinner led to another catering request which led to Levitt's first small time catering business – as a seventh grader. He's been cooking ever since, as well as writing about food on his blog, called The Dorm Room Dinner.
Marchetti doesn't necessarily plan to make food his career, but has inherited the values of home cooking from a life time of helping cook family dinners at his home in Napa, CA. He continues to enjoy home cooked meals and the excitement of cooking from scratch. Recently his specialties have branched out to desserts, making a variety of homemade ice creams (Caramel and Chamomile Raspberry to name a couple) and delicious cakes.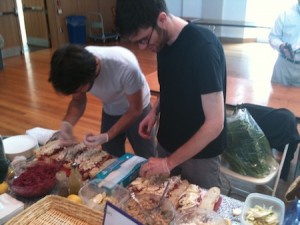 When they met freshman year, the two bonded over their mutual love of homemade pasta, fresh baked bread and essentially anything else they could craft in a kitchen. Living together in Hi-Rise last year, they started to cook dinner for themselves and friends almost every night of the week. Feeling cramped in the narrow, windowless kitchen, they decided to expand their cooking repertoires and invite the world to experience their home-cooked, inventive recipes.
For the sandwiches, they wanted to support local farms and businesses, as well as making sure their produce was fresh and largely organic. In that vein, for every sandwich they make, they travel to a number of local farms, picking produce that is in season to craft their next sandwich around. The sandwiches are often on baguettes made by a local baker, Howard of Chester, CT. With all the travel, including the time it takes to test recipes and actually prepare the sandwiches at the market, the venture is truly a labor of love and proof of their dedication to their kitchen-based craft.
Next time you wander through the Farmer's Market, be sure to stop at the newly named DW Sandwiches. Levitt and Marchetti will be there, serving up delicious combinations of fresh, local veggies on fresh, local breads!