Sarah Wolfe '12 talks with Julian Silver '12 and Michaela Swee '12 about their Second Stage experiences.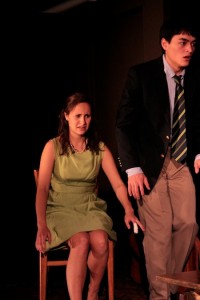 If you like to get involved in theater on campus, Second Stage's presence is exciting and vibrant. Starting the first week of each semester, Wesleying is flooded with audition notices and calls for Stage Managers, Board Ops, Technicians, and Musicians. Some look by these and wait for opening night to see what Second Stage has decided to offer up this week, but there are some who make a point of never missing an audition. Earlier this week I sat down with Julian Silver '12 and Michaela Swee '12, two seniors who claim to have a "why not?" attitude when it comes to auditioning for shows.
"You don't end up doing it all obviously, but the experience of auditioning is just priceless," says Silver, and Swee agrees wholeheartedly. But for two who claim to not "do it all", they've had an impressive run of shows in their time at Wesleyan. If you've gone to see Second Stage shows in the last three and a half years, you've undoubtedly seen one or both of them, featured in shows ranging from Comedy to Mystery to Musical.
Swee, a Psychology major, has been in seven shows, while Silver has been in a whopping eleven (with at least one more planned for the spring).
The two made an effort since becoming friends freshman year to perform together as much as possible. That wish became a reality in How to Be a Man in West Belfast (written and directed by Ben Firke '12), Glass Menagerie(A Performance Project dir. Bennett Kirschner '13), Black Comedy (dir. Shelby Arnold '12  and Samantha Melvin '12) and the recent production of Dog Sees God, which marks Swee's last performance at Wesleyan, as she is graduating in December.
Both of them noted The Glass Menagerie as one of the most interesting experiences they've had at Wesleyan."[It] was a pretty insane experience," mused Swee. "I think that was the most frightening experience I've ever had as an actor."
The reason for this was simple: the actors, under the direction of Kirschner, were told at the beginning of the process that they were not going to rehearse with each other. Instead, they rehearsed individually with Kirschner and had improvised family dinners between the actors playing Amanda (Ariela Rotenberg '10), Tom (Silver) and Laura (Swee). Swee and Matt Alexander '12, who played Jim (her gentleman caller) were not even allowed to see each other outside of rehearsals. The first time they interacted was in the play, on opening night, creating a very real environment of new interactions between the four characters.
Though both of them related the doubts they had at the beginning of the process, they came to value this production as one of the "most productive" in their careers here, simply for the challenges it offered.  "That is a testament to Wesleyan, and Second Stage in particular," noted Silver. "It offers the opportunity to people to offer themselves. Some freshman can come up and say, I don't want to rehearse the cast with each other!"
Beyond Glass Menagerie, Swee's favorite productions at Wesleyan were Songs for a New World (dir. Elizabeth Trammell '10) and Dog Sees God. The two shows are a good representative of the variety that Second Stage presents. One is a musical cabaret of sorts, filled with haunting, beautiful, occasionally comic and often tragic songs and no dialogue. On the other hand, Dog Sees God is an often funny, sometimes darkly disturbing glimpse into what could happen if the characters from the beloved comic strip "Peanuts" were to grow up and go to high school. Swee's experiences could have been polar opposites. Yet in both her strongest memory is the joy of rehearsal – for Songs for a New World it was getting to sing with and look up to some of Wesleyan's finest singers, and for Dog Sees God it was discovering the joy of a silly, over the top character who enlivened her fellow actors throughout the rehearsal process.
For Silver, a particularly notable experience was Dead Sharks (written by Will Dubbs '14, dir. Dakota Gardner '11) in which the cast traveled to New York City to perform the play as part of Manhattan Reperatory Theater's Winterfest 2011. "We all got to go to New York and take the train every weekend with each other, so that was a cast bonding experience like one I've never experienced before. And it was semi-professional. That was one of the first times I walked out into the audience and I didn't know anyone except a couple people."
Other than Dead Sharks, Silver cited Yalta (written by Elizabeth Gauvey-Kern '11 and directed by Gauvey-Kern and Hannah Weiss '12) as one of the most challenging for him as an actor. He played President Roosevelt in the three hour production detailing the events of the Yalta conference. On another note, he too found one of his favorites in Dog Sees God, in which he played Matt (Pig Pen). He called the process for that, as well as Black Comedy, "pure fun".
Both Silver and Swee continually come back to the people of Second Stage when discussing their past experiences. "The plays come and go," Silver says, "but I haven't regretted any of the experiences just because of the people I've been able to work with throughout the process. It never fails – the people who work in theater who are willing to put themselves out there in Second Stage, are consistently some of the most creative people on campus."
Their experiences, from the variety of shows they've been in to their own growth as performers, truly speaks to the function of Second Stage. Both Swee and Silver knew they wanted to do theater at Wesleyan, but chose not to be theater majors and to instead pursue theater in an extra curricular form. Through their excitement in the audition process and their willingness to sign on to a huge variety of performances and directors, they have created an impressive repertoire of roles. And yet in reflecting back on their years here, their joy chiefly lies in the process of putting together a show rather than with opening night or the curtain call.
Both Swee and Silver plan to somehow include theater in their lives post-college. Though Swee plans on pursuing Forensic Psychology and Silver is moving to L.A. to try his hand at the film world, they both discussed the importance of theater in their lives, and their unwillingness to let it fall behind.
"I definitely want theater, and film," says Michaela, "to be a part of my life… It's such a crucial part of who I am as a person that I can't really see living a life without it."