Shira Engel '14 interviews Leigh Stewart '13 on her radio show for WESU.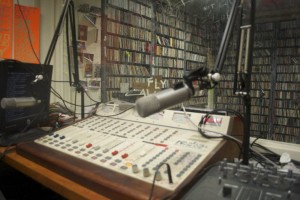 Tell me about your radio show.
It's called The Smorgasboard and it is a show that combines international electronic and dance music. It's a great excuse for me to play my favorite new releases that fall under those genres. It came up unexpectedly because my friend and I were supposed to do a show together, but she went abroad so I did the training and decided I might as well do a show by myself. I realized I have a lot in this genre. I wasn't sure how I'd feel doing this whole solo radio thing, but I like having full reign over the playlist.
Why did you decide to start it?
I felt like I wanted to explore more how music is circulated and college radio is a very small representation. I was interested in how production works and how artists get their names out. I have several friends that are just signing onto labels and starting to DJ bigger shows. I'm interested in the progression of how a musician, and particularly a DJ, starts out. I thought it would be really interesting to look at it in terms of one really small aspect, which is radio. The College Music Journal has you record your playlist and you have to have a certain number of new releases every hour. It's a way that they track new artists and make sure music is getting promoted through this outlet. I attended The College Music Journal's festival, which compiles a lot of that music and at the end of the year in October, they have a festival in New York where they get over 900 bands and a lot of the stuff is funded and free or reduced prices for all these shows. I stumbled across that and wondered how these bands get here and how concerts and shows are related to radio.
How do you choose the music?
A lot of the music I want to play and that I'm interested in is actually old music from the earlier half of the decade that I have the opportunity to show to this audience. The new releases force to me to constantly expand what I am exposed to and what I expose other people to and it taught me to realize that the things I think are new for listeners maybe aren't new at all. There are certain sounds and combinations of beats that I really like and ten or fifteen artists that I really like and I check their social media and trace that lineage to what could potentially be new music along that similar trajectory that I want to promote.
How do you prepare for it?
My show airs every other week, the seconds and fourth Wednesdays of every month from 9:30 to 11pm and it's WESU Middletown 88.1FM and you can stream it online through their website. I use the two-week period to prepare and look for new releases so I'm constantly scouring blogs and putting them
nd go into hip hop and rap at the end. I always have extra music on hand and my playlists are always more than I think I will use in the studio. Another thing that goes into the show is beats per minute, which is matching the tempo of each song so I try to start out with each beat and mix between the song and between voice breaks. I change the tempo and move to songs that are a little bit slower or faster.