Barbara Fenig '11 reviews Dewey Dell's "Cinquanta Urlanti Quaranta Ruggenti Sessanta Stridenti".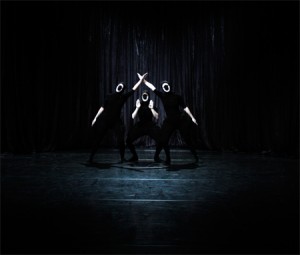 The final performance in Dewey Dell's two-week residency at Wesleyan University concluded with the American debut of Cinquanta Urlanti Quaranta Ruggenti Sessanta Stridenti. The title, which translates to "Roaring Forties, Furious Fifties, and Shrieking Sixties", evokes the names of three westerly winds that haunt the Antarctic seas. The piece charts the story of a ship as it becomes cloaked by the winds. Against the silver and black backdrop of the set, which depicts the depths of the ocean, the ship grows into an enormous organism whose borders are blurring, corresponding with the winds, the sea, and the world as prescribed by Dewey Dell's trio of dancers.
Dewey Dell's creativity was well received by the packed audience at the sold out show. Siblings Teodora, Demetrio, and Agata Castellucci along with Eugenio Resta formed Dewey Dell in 2007. Teodora serves as the group's choreographer, Demetrio as the composer, Eugenio as the light and set designer, and Agata as a leading dancer. As the performance progressed, Teodora, Agata and guest performer and friend Sara Angelini became representations of the boat, enveloped by their environment: their bodies synonymous with the elements as they danced around the Center for the Arts Theater stage.
Sponsored by the Center for the Arts and the Theater Department as an Outside the Box Theater Series event, Dewey Dell's performance created a striking portrait of the world of the sea. The dancers wore costumes, which affirmed them as ethereal beings—a mirage of black costumes and white face paint, framed with black squares on the core of their faces—hiding their identities. The trio wore padded voluptuous hips, a confirmation of their feminine connection with nature, and thus the cinquanta urlanti quaranta ruggenti sessanta stridenti. In the question and answer following the performance, the trio also remarked that their authoritative hips remind them of the form of the boat and the temptation of sea sirens.
The performance's electronic music was symbiotic with its commentary about nature as it replicated waves crashing, reacting to the boat, and the overall power of nature. The music's aggressive vibrations mimicked the deadliest of waves, which were followed by the shrieking crew, cracking wood, and the buzzing hum of the moments between each dramatic wave, which provided melodic reprieves for the audience. Each time a wave would strike, it ripped the dancers back into the swirl of nature's power.  The performance maintained a constant comparison between the bellowing of the crew and the murmur of the ocean.
During Dewey Dell's residency, I heard about the brilliance of the group: how they were interacting with Wesleyan students, generously cooking Italian meals in Juniors' LoRise apartments, roaming around campus, and teaching bits of Italian. This intriguing contrast is evidenced in Cinquanta Urlanti Quaranta Ruggenti Sessanta Stridenti as Dewey Dell is at once burgeoning talent and prophetic genius.