Sarah Wolfe '12 reviews Dewey Dell's "à elle vide"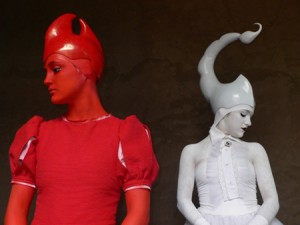 Dewey Dell's performance of à elle vide left the audience in silence for a full thirty seconds before the applause began. Though the performance had only been twenty minutes long, it had filled the theater with its energy, through the pulsing electronic beats, at times frenzied and at times eerie, and through the beautiful and extraordinary movements of the two dancers.
Dewey Dell was formed by four young Italian artists, three siblings, Teodora (23), Agata (20), and Demetrio (21) Castellucci along with Eugenio Resta (29). But watching the performance, one would never be able to guess their youth in the maturity of the work.
à elle vide is the story of two figures, the red Rooster and the white Scorpion, each depicted by the elaborate headdress and the color of their entire body and costume, which are designed by Teodora.
"[T]he characters," said Dewey Dell in our correspondence about their work, "come from two drawings. These drawings, once finished, shouted their desire to live. How many times, in your childhood, have you had the desire that the drawing becomes a reality?"
Rather than focusing on these two figures' relationship, the piece instead focuses on the "void that is created between the two figures, the vacuum mentioned by the title. à elle vide. to her empty." Teodora, as the Rooster, began the piece with a ten-minute solo in which her precisely controlled movements coupled with Demetrio's electronic score call to mind the Rooster's short, hyperactive motions.
Eugenio lit the piece beautifully, using dim lighting to create elusive shadows, hiding then revealing the dancers' bodies and movements. Moving quickly through the dim light, often with her head down, we rarely saw Teodora's face, but when we did it was shocking and constantly in tune with the rest of her frenzied motions.
On one notable occasion, Teodora turned so that she was silhouetted in profile and we saw for a brief glimpse that her chin was shaking, vibrating along to her harried internal rhythm. In another, her hands moved so fast and fluidly that it seemed as though she could actually be sprouting wings, long silken feathers growing from her fingertips.
The fury of the Rooster was entirely contrasted by the cunning and curious Scorpion, played by Agata, content to be still and silent. Agata, wearing slender white heels, processed slowly to the front of the stage, where she remained for the duration of the performance, her face a mask of innocence, almost calling to mind a young girl wearing her favorite party outfit, putting on a show of shyness and timidity. But beneath lay a sea of cunning, revealed in each curl of her slender fingers as she waits.
Though the piece culminates in what appears to be a confrontation, the artists view the animals as honoring each other rather than attacking each other, dedicating their movements to their opposite.
"It looks like dance," says Theater Department Chair Cláudia Tatinge Nascimento, "but there is something essentially theatrical about it."
The members of Dewey Dell responded to this question about the boundaries between theater and dance in their work, saying that it was not a simple question for them. "When we go to see dance performances we get bored, and we say to each other that we don't like the dance, but, for us, what we do – our work, we mean – is dance…Then, we could define dance also [as] the leaves of a tree in the wind and we wouldn't be wrong."
The difference seems to lie in the connection between execution and intention. For Dewey Dell, execution cannot be all. Intention, the honest and natural movement, must be equally as strong to create a piece that is theatrically as well as physically engaging.
Just as the red Rooster and the white Scorpion emerged out of a drawing that was necessary to bring to life, Dewey Dell begins all of their work with an idea, an image that is demanding to be shared with reality. They begin by capturing the physical characteristics and the look, feeling how this character would move, and how it can be portrayed through elements of design. But they never lose sight of the original image.
"We could never have an idea without being able to realize it."
"We do everything to bring it to life."
The four founding members of Dewey Dell are in the middle of a two-week residency with Wesleyan's Theater Department, which includes a week-long workshop for Theater and Dance students. In the workshop they are developing their new work, Grave: Corpi in Caduta Libera, the first piece they have done with human characters. They will conclude their residency with a performance of Cinquanta Urlanti Quaranta Ruggenti Sessanta Stridenti ("a surreal reflection on how the borders between the sailors, the ship, the wind and the sea are blurred upon leaving the harbor") at the CFA Theater on Friday, September 16, joined by Sara Angelini. Tickets are available at the Wesleyan University Box Office: $18 general public; $15 senior citizens, Wesleyan faculty and staff, and non-Wesleyan students; and $6 Wesleyan students.