Shira Engel '14 interviews Artist in Residence and University Organist Ronald Ebrecht before his free, all-Franck concert, "Bach to School", taking place Friday, September 9, 2011 at 8pm in Memorial Chapel.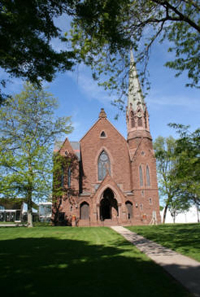 Tell me about the concert.
The composer was born in Eastern Belgium, an area that belonged to everybody. There is a BU program to increase cross-border cultural things in those regions where the borders have moved a lot. This is one of César Franck's anniversary years (1822-1890). My specialty is music from the 1950s so this stuff – from the 1850s – is a little early for it. This guy was very important to the history of symphony. He became a model for a lot of other composers, such as Charles Ives. It is a major piece in orchestra. Musical scenes from one movement were re-introduced in other movements. Franck was the first person to repeat scenes. He was important in chamber music, the most important 19th-century French composer. The ability to write melodies creates memory, which makes him very popular.
What do you hope students will get out of the concert?
I always like to be first because then I get a really good audience. I always have a mystique around campus. We have the largest undergraduate organ program. All the schools are jealous of our Organ Romp. I like to be first and kick the series off to a good start. In a few weeks, there's another concert composed by students ("The Musical Singularity", Thursday, September 22, 2011 at 8pm in 
Memorial Chapel). There will be a newness to this concert because it's the first of the season. I don't have to put together an ensemble; it's just me so there's no major rehearsal.
If you like music that will lay you out on the floor, Franck does that.
What was the inspiration? Tell me about the festival.
I was supposed to have played in Germany for another thing, an all-American program, but I wasn't able to go. The students always want to know what's going on in the studio. My studio downstairs has posters from a bunch of places in the world and students can sit there and practice and think, "If I work really hard, I can go to all these places."
What pieces are you most excited for?
The d minor symphony became a piece that all other composers of symphonies are interested in, and Franck was so pleased with how much attention that piece got that he decided to write a piece for other organs. That became a genre of its own. It's a cyclical organ symphony so he brings back scenes from earlier movements to set the stage for other movements. We have a problem in serious music where people say, "I don't know how to listen to that," but when the scenes come back from other movements, it makes it a lot easier.