A review of Westories by Shira Engel '14.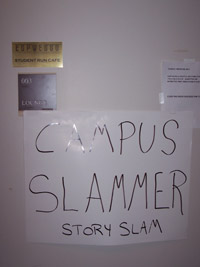 On Wednesday March 31, Wesleyan hosted a Story Slam at the student-run café, Espwesso. Unlike the café, this slam was not student-run. It was hosted by Wesleyan, but put on and administrated by the Connecticut Storytelling Center. When I first heard about the Story Slam, I assumed it was going to be similar to the many awesome poetry slams put on by the student group WeSLAM, but this was altogether different.
The mission of the "Campus Slammers" is to develop both storytellers and listeners in campus communities. It is based on a poetry slam format except each participant gets 5 minutes to tell their story and they are not allowed to read anything – it is free form, free verse, and freely spoken.
The theme for the Story Slam at Wesleyan was "winners and losers." The turnout was fairly minimal, but hopefully these kinds of events, where individuals can share stories of the times that have cultivated their identities, will grow in attendance. The stories told were organic and, although initially about winning and losing, grew to tell stories of identity and coming of age, subjects that are on most college students' minds.
The winners of the Wesleyan Campus Slammer, Taylor Goodstein and Paul Pianta, will go on to the final round at Connecticut College. The top three winners of the final round will go on to perform at the noncompetitive Connecticut Storytelling Festival.
While it would be awesome for these campus slammers to have more student involvement, I think we could all get behind their overall objective: "to promote the living art and use of storytelling in the many environments of our diverse society."
Check out what the Connecticut Storytelling Center has to say about their time at Wesleyan here!