Take a moment to close your eyes and listen. What do you hear? Take a quick inventory. Now what if you could take those sounds, mix them up and make something new with them?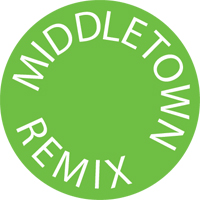 That's what we are doing with MiddletownRemix.
MiddletownRemix is a year-long, Middletown-specific sound project presented by the Center for the Arts at Wesleyan University in collaboration with numerous organizations in the community. MiddletownRemix invites everyone in Middletown to record sounds (up to one minute long each) and upload them to the MiddletownRemix website where they are geo-tagged on a Google map. For individuals who do not have access to a smart phone, 10 devices have been made available to checkout at the Green Street Arts Center, located at 51 Green Street. We want to hear the sounds that make up your daily life and create the soundscape of your city.
But you can do more then just record sounds – you can create new ones. After recording your sounds, you can remix them, and any of the other sounds on the site, with the tools on the website, or by downloading and remixing the sounds with your own software. Then, share it with your friends on Facebook or Twitter (@WesCFA #MTownRemix). By revealing the composer within us all, this project can challenge or change perceptions of Middletown. Every week, we are featuring one sound and one remix on our website so be sure to check back often to see if your sound or remix has been selected.
Since the project began in May 2012, Middletown community members have already recorded over 660 sounds and created 75 remixes, and we anticipate gathering over 1,500 sounds and remixes by the "MiddletownRemix: Hear More, See More" Festival on May 11, 2013. The Festival will celebrate the community's work on this project. Stationed in the North End Arts District, the Festival will include commissions of local sound and visual artists, a flash mob, a gallery walk, a laptop orchestra commission [the world premiere of "MTRX" (2012) by Jason Freeman of UrbanRemix], live remixing and other sound related programming – all of which will be based on the recordings of MiddletownRemix. We believe that if people listen deeply, they will see more.
If you are interested in learning more about the Festival, join us at the Community Health Center, located at 675 Main Street, on Monday, February 4, 2013 at 5pm for a presentation and question and answer session.