Approximately three minutes into Emily Hunt's opening night performance of her thesis production, "The Kindness of Strangers," someone's cellphone went off.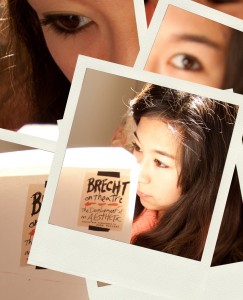 The audience of 23 viewers, myself included, collectively cringed. Ms. Hunt continued with Blanche Dubois' monologue from A Streetcar Named Desire for a few seconds longer, before breaking character and pleading with the audience to silence all cellphones. Yet the ringing continued. Our intimate, circular seating formation allowed everyone to stare, horrified, around the audience, searching for the culprit responsible for this painful interruption.
The ringing went on. Discomfort was heightened by Ms. Hunt's noticeably hurt facial expression. Suddenly, she stood up, now completely out of character from the swooning, inebriated Blanche, and walked over to the onstage bed, one of the few components of the minimal set. Ms. Hunt pulled back the comforter, and there, lying on the mattress, was her own phone—lit up and sounding throughout the theater.
Ms. Hunt answered the call. She spoke in a quiet voice to the person on the other end, before hanging up, apologizing to the audience, and attempting to restart the monologue. After uttering the first line, however, Ms. Hunt meekly asked for the house lights to be turned on. She thanked everyone for coming, but explained that she didn't think she could perform that evening.
Never have I sat in a theater with a greater feeling of shock, confusion, and horror. I fully felt Ms. Hunt's embarrassment and shame as she wrung her hands, averted her eyes, and attempted to cool her flushed cheeks.
The extreme emotional reaction Ms. Hunt succeeded in evoking in her audience during the first five minutes of "The Kindness of Strangers" speaks to her adept understanding of what triggers various psychological conditions, in this case, distress and discomfort. Combined with her accomplished acting abilities, Ms. Hunt achieved immediate visceral engagement in her performance, an investment she maintained throughout the remaining production.
Ms. Hunt, who wrote, directed, and was the sole performer in "The Kindness of Strangers," aimed to utilize this unconventional theatrical format to allow her audience an understanding of the challenges of preparing an acting role. Ms. Hunt, who is a Theater and Psychology double major, aimed to convey that the process of embodying a fictional character requires a deep understanding of human psychology.
Her performance continued: Ms. Hunt explained that the call she had received onstage was from a theater company with whom she had auditioned for the role of Blanche. Ms. Hunt had not been cast in the play; the company's creative team expressed that they did not believe in her portrayal of the character. Ms. Hunt admitted that she had little in common with Blanche, from the character's experiences and background, to her time period and ethnicity.
In the remainder of "The Kindness of Strangers," Ms. Hunt explored the following questions: How does one step in and out of a performance without feeling guilty of deceiving an audience and oneself? How can one commit acts that one would never commit in real life on a stage?
Ms. Hunt demonstrated the challenge and complexity of these questions by first identifying surface level emotions in Blanche's words. She noted "fear" and "sadness," then asked the audience to show her what these expressions look like.  Various individuals contorted their faces to convey these emotions, and again, we were encouraged to turn our attention away from Ms. Hunt and towards each other, just as we had when the cellphone went off.
Ms. Hunt observed individuals' interpretations of these emotions and wrote down the physical characteristics they displayed. "Sad," looked like a downturned mouth and half-closed eyes.  "Fearful" took the form of wide eyes, and a tight, dropped jaw. Ms. Hunt re-attempted Blanche's monologue, while imitating audience member's facial expressions. What came of this activity was her realization that to become a character it is not enough to reenact their emotions. To portray a believable role, an actor must understand the psychological roots of their character's sentiments.
Ms. Hunt connected this assertion to Leon Festinger's theory of "Cognitive Dissonance." In the program accompanying "The Kindness of Strangers," Ms. Hunt wrote, "Cognitive Dissonance describes what we experience when there is 'an inconsistency among some experiences, beliefs, attitudes, or feelings. According to dissonance theory, this sets up an unpleasant state that people try to reduce by reinterpreting some part of their experiences to make them consistent with others.'"
Ms. Hunt drew from Festinger's theory, combining it with the philosophical and methodological teachings of dramatists Bertolt Brecht and Konstantin Stanislavski, to "reinterpret" Blanche's role. In order to empathize with the character, Ms. Hunt recalled stories from her own life, which evoked in her the same psychological conditions and emotions she had identified in Blanche's monologue.
"The Kindness of Strangers" alternated between Ms. Hunt frankly addressing the audience, reading passages from texts on psychological theory, and sharing personal memories. This innovative integration of performance techniques brought Ms. Hunt to a psychological condition in which she could understand Blanche's character, and the audience to a psychological condition in which we could appreciate her gradual and successful transition into the role. By the end of the production, Ms. Hunt had fully slipped into Blanche's character. She ended the performance with a flawless, deeply emotional and believable recitation of the remaining portion of her monologue. This time, there were no cellphone interruptions.
"The Kindness of Strangers" ran Thursday, February 28 through Saturday March 2, 2013 in the Patricelli '92 Theater. The performances were in partial fulfillment of Ms. Hunt's Honors Thesis in Theater.