Michael Darer '15 attended a concert by Mac DeMarco, who were promoting their new album, "Mac DeMarco 2."
On October 25, 2012, Eclectic House paid host to Mac DeMarco, a little known lo-fi band (or, to some, musician with a backing band), following the release of their/his first full length LP, "Mac DeMarco 2" just nine days prior.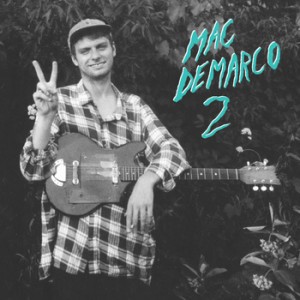 The show, opened by Featherwood Bee, followed by Yeoman's Omen, had been one for which I'd been excited since I had heard about it. This past summer, a friend of mine had played DeMarco's debut EP Rock and Roll Night Club for me and I was immediately intrigued. The record, which presented itself as a stew of styles and textures, some even meshed together on individual tracks, was daring and confident in ways that few debuts are. It hummed with a self-satisfied irony that might have been irritating if attempted by a less assured outfit, but that, in the hands of DeMarco and company, enlivened each song with the sort of defiant mix of humor and anxiety that defines the college experience.
When I entered the show that Thursday, I had not heard DeMarco's newest release, a circumstance influenced by my forgetting its release date but rationalized as some sort of aesthetic choice to preserve the integrity of the live performance. Why I decided to convince myself of that, I'm still not sure.
I arrived midway through Featherwood Bee's set, and posted myself up against once of the room's walls to enjoy the preceding acts. Featherwood Bee has always been one of my favorite student bands and their performance that evening reminded me why. The vocals of Kelly Lee '14, declarative yet measured mix incredibly well with the expansive rattling of the surrounding guitars, their mixture just barely concealing the driving rhythm of the drum set of Adam Johnson '14. The resulting sound is unassuming and playful, memorable without being intrusive, such that individual moments in songs can stick out with abnormal vividness, while the rest of the song works subtly below the surface.
While I had to briefly leave the show, causing me to miss most of Yeoman's Omen, I returned just in time to catch Mac DeMarco go on stage.
Their performance began quite slowly, songs blended and spaced unevenly in a way that prevented me from really settling in to any sort of complacency. After a while, I stopped trying to catch all of the lyrics, which was probably for the best, considering that, between wild and charged guitar chords and the residual chatter of the crowd, they became near unintelligible, and any attempt to seek them amid the mass of noise would most likely have caused me to miss what amounted to an astonishingly deliberate bouquet of sonic arrangements.
One of the most arresting features of DeMarco's music is the contrast between the smoky, tranquil nature of the eponymous singer's voice and the energized, at times even feral, nature of the accompanying guitars. The combination is at times hard to take, mostly so upon first listening, but once it grabs you, it will not let go.
The serenity of DeMarco's voice at times dips into a wonderfully weary deadpan, which makes the music seem at once listless and honed, an effect only heightened by the band's willingness to jump between seemingly disparate tones, moving from ethereal meanderings to pulsing garage rock in mere seconds.
One of the wonderful things about DeMarco as an artist is how unconcerned he seems with the categorization of his music. There's no use arguing that one could draw clear lines of influence from his sound to that of other groups, contemporary and otherwise, but considering the sheer variety of influences such an exercise would turn up, it seems trivial. Listening to Mac DeMarco, you get the sense that the music performed is so organic, so sheer and honest; and, that, in an industry of conscious emulation and gimmick, is relief enough to be revelation.