Rebecca Seidel '15 sits down with Lana Wilson '05, curator of the "Performance Now" film series, presented in conjunction with the Zilkha Gallery exhibition focusing on performance art (on display through December 9, 2012).
The Performance Now exhibition at the Zilkha Gallery merits multiple visits – there's just so much to experience and absorb.  Performance art naturally exists only in the moment it is created, but this exhibit does an excellent job of immortalizing the performances it displays.   Curated by Roselee Goldberg, Performance Now will be on view until December 9, so you still have time to head over and browse the exhibit yourself.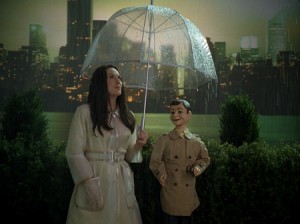 To further enhance your appreciation of performance art, the exhibition extends into a three-part film series at the Powell Family Cinema.  The first set of films – two films featuring French conceptual dance – were screened on September 20.  The next set, featuring films by Danish artist Jesper Just, will be screened this Thursday, October 25.  The final group of films, showcasing recent works by Daria Martin and Laurie Simmons, will air on November 15.  Admission to these films is free.
I got a chance to interview Lana Wilson, the curator of this film series, about what viewers should expect from the screenings.  Lana, a 2005 Wesleyan graduate, had a lot to say about her film selections for Performance Now. She gives some helpful context for the French films that aired in September – films that offered quite a memorable experience for viewers, as you know if you were there. Above all, Lana is excited to air the remaining installments of the series.  She will be at the cinema to introduce the Jesper Just films this Thursday. You can read our discussion below:
Why did you select the films that you did?  What about them made them especially relevant to the Performance Now exhibition?
I selected these films to accompany the Performance Now exhibition because I think they represent a very small sample of some of the most exciting performance films made by artists in the last decade. These screenings include both filmed documentation of performances, and films that have a lot to do with live performance, but are specifically made for the camera, because I think that both types of work are important. It's a film series, but it's about live performance, so I wanted to include samples of different places in the spectrum between the two.
All of the work being shown is also by artists who have been a part of the Performa biennials, including the first-ever Performa Commission (Jesper Just's True Love Is Yet to Come, from 2005). But the artists themselves all come out of slightly different contexts – Jerome Bel and Boris Charmatz are choreographers, for example, while Laurie Simmons is a photographer and visual artist.
What kind of viewing experience should we expect from the upcoming two screenings? Anything to look out for in particular?
I was so thrilled to have the chance to program films for the one of the beautiful screens in Wesleyan's Center for Film Studies. I wanted to take advantage of that opportunity by showcasing works that are visually gorgeous, and made at a scale that would make sense to show in a large cinema, rather than on small monitors in a gallery. I also wanted the programs to be made for the audience to sit through from start to finish, with their attention fully engaged. So none of these screenings are dry conceptual events – each program is visually lush and – at least in my opinion! – will be very exciting to watch on a big screen.
The two French films screened on September 20 differed aesthetically in some pretty stark ways.  Do you think there are any common threads between them?
It's true – both of those films are very different aesthetically. But they are both made by choreographers who come–in very different ways – out of traditions of the Judson Dance Theater, and both artists are now seen as key figures in the wave of "conceptual choreography" that emerged in France in the 1990s.
For those who are unfamiliar with it, the Judson Dance Theater was a loose coalition of artists, choreographers, and musicians who had a series of performances at New York's Judson Church in the early 1960s that radically broke with the conventions of concert dance. The dances created by this group, which would later be called "post-modern," reduced the medium to its most essential elements, discarding drama and expressionism in favor of pedestrian movement, repetitive structures, and improvisation, and rejecting the notion of the artist or performer as virtuoso in favor of what they thought of as more "democratic" dance.
In contrast, the performance documentation of Bel's Veronique Doisneau, 2004, reduces aesthetic concerns to a bare minimum, instead throwing its concept into high relief. In September 2004, Paris Opera Ballet dancer Veronique Doisneau, age forty-one, is about to retire after over twenty years of dancing in the background as a member of the corps de ballet. On the final night of her career, she at long last appears alone on stage, in front of an enormous audience in the Paris Opera House. Dressed in rehearsal clothes, and wearing a headset microphone, Doisneau calmly tells the story of her life in dance—her low-ranking position in the hierarchy of the ballet company, the injury that almost ruined her career when she was twenty, even the amount of her monthly wages. She then performs excerpts from several pieces, including a variation from La Bayadere, with no music other than her own soft singing and counting; a segment from the lead role in Giselle, a part that Doisneau says she wishes she could have danced (earlier, she speculates, "I don't think I was talented enough"); and a portion of the corps de ballet part from Swan Lake, in which Doisneau stands perfectly motionless in various poses while the stars dance in center stage. Watching Doisneau perform her life's history as a dancer, with all its attendant joy and frustration, shows the audience things they had never noticed before. Like the work of the Judson artists, it reveals the assumptions underlying dance, bringing them into the open to re-construct them in an entirely new way. It is one of my favorite performances of all time.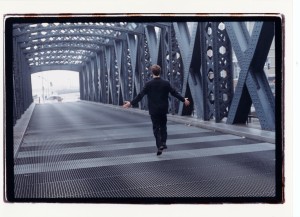 In France in the 1990s, a wave of new choreographers emerged that was both reacting to the highly theatrical French dance of the 1980s, and inspired by Judson. Les Disparates, from 1994, is a film directed by Cesar Vayssie that two young French choreographers, Boris Charmatz and Dimitri Chamblas, collaborated on right after becoming the teenage sensations of the French dance scene with A Bras le Corps (1993), a duet that has a real thrilling physicality to it. In Les Disparates, a man (Charmatz) dances in four different locations as the film jumps between them all, using his movement to explore the possibilities for fragmenting time and space through editing. Shot in the rainy landscape of Sienne, a city in the north of France, the film leaps from bar to boathouse and back again–it's very much a dance made for the camera. The choreography suggests the influence of Judson member Steve Paxton's weight and flow-based contact improvisation techniques, while the film's crisp compositions and elegant visual motifs—highlighting patches of saturated red and blue within the industrial scenery, for example—resemble contemporary European art cinema.
Do you have a favorite film out of the entire series, and if so, what is it?
This is a tough one. Jesper Just's It Will All End in Tears will be spectacular on the big screen – let's just say that there are some amazing special effects. And for Meryl Streep fans, that actress is a star of Laurie Simmons's The Music of Regret (2005), where she has an unforgettable turn singing a duet with a ventriloquist dummy. Too hard to choose!
The Films of Jesper Just
Thursday, October 25, 2012 at 7pm
Powell Family Cinema, Center for Film Studies
Introduced by Performa Film and Dance Curator
Lana Wilson '05 with reception to follow.
FREE!
Other Worlds: Daria Martin and Laurie Simmons
Thursday, November 15, 2012 at 7pm
Powell Family Cinema, Center for Film Studies
FREE!