Katherine Clifford '14 provides us with a preview of "visible," a dance piece presented this Saturday, October 6, 2012 at 8pm in the CFA Theater.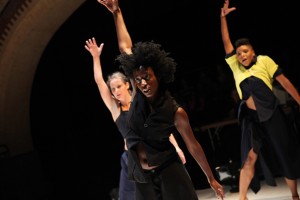 Jawole Wllla Jo Zillar and Nora Chipaumire's piece "visible" will be performed at Wesleyan this Saturday, at 8pm in the CFA Theater. The two choreographers were on campus on Monday, October 1st to speak to a group of students and dance and arts faculty to preview their work over a lunch and discussion. During this talk, the artists spoke about their backgrounds in dance, their collaboration, and what "visible" is about. The conversation illuminated several important themes central to their work, sparking excitement to see the creative outcome and movement behind their ideas and stories.
Both Jawole and Nora were attracted to the idea of "advocacy through dance." Nora, from Zimbabwe, a graduate of University of Zimbabwe's School of Law as well as of Mills College (in CA) where she studied dance, drew a parallel between dance and the law. She spoke about how through dance, one can get "immediate advocacy," whereas in the legal world, "it takes longer to get immediate impact." This immediate impact is due to the physicality of dance; Nora remarked, "The power of dance is that we're physically doing it. It has a way of changing the person who connects to it." It is also a way to change oneself. She discussed how she "felt compelled to explore her inner landscape:" her roots in Zimbabwe, during her time at Mills College, which she described as "amazing dance, but so American."
Jawole founded the company Urban Bush Women in 1984, under the theme of using "cultural expression as a catalyst for social change." She spoke of the influence of the Black Arts Movement during her college years, which she said was instrumental in "dismantling the hierarchy of what dance form was supposed to be." She was thus interested in the idea of advocating for a dance based on personal experience, a dance that dealt with "pedestrian movement," and one that was truer to her African American identity.
Thus, both Jawole and Nora were interested in making a distinction between white, "American" dance and a dance influenced by their own cultures and identities. This translates to the central theme behind "visible" of the idea of migration and how that relates to identity and visibility. Both artists spoke of the idea of romanticizing a place and how that can be problematic. Nora discussed her story of immigrating to America from Zimbabwe and her imagined future based on the myths of America as a land of "milk and honey" and as a place of true democracy. In the U.S., Nora struggled with the idea of how she could be visible in this new place, and the difference between an identity as African versus as African American.
Jawole discussed the influence of jazz on her work, where everyone can have a distinct voice. This translated into an attempt to "bring in the mother tongue of all the dancers [in her company] and to learn to communicate in order to find each other." In fact, the cast performing on Saturday is very international, with artists from Burkina Faso, Guadeloupe, Jamaica, Holand, Japan, and Washington D.C. Most of the dancers thus have different migration experiences to New York. These dancers are united by the idea of shifting identity upon entering a new place, and by their different experiences as compared to romanticized myths. The combining of these migration stories and experiences of identity and visibility of the dancers and choreographers combine to form the piece "visible," the exploration of these experiences through dance. As Nora elegantly said, "It isn't possible to separate who you are from what you dance."
Don't miss this provoking and culturally rich performance this Saturday, October 6th.