Hannah Cressy '13 concludes her four-part series on Wesleyan's interdisciplinary course Ritual, Health, and Healing.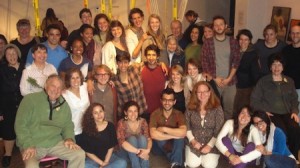 After weeks of seminars, movement labs, bus rides, and a lot of bonding time, our "Ritual, Health, and Healing" class has come to a close.  We had our final movement lab on Tuesday, which gave us a chance to reflect, share our thoughts, and be together as a group for the last time; half the class will be graduating this month.  We sat in a circle, drinking lemongrass tea and allowing time for final words, though we found ourselves still talking, laughing, and shedding a few appreciative tears for an hour after "class" had ended.  One student sent an email to all of us this week that began with "Hey fam!"; we definitely feel like we have moved beyond classmates to become a family because of the work we did together at Wesleyan and especially in Brooklyn.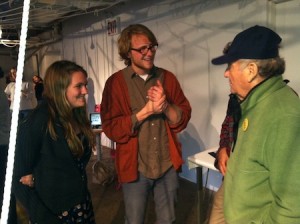 I've been blogging for the past month and a half about our trips to Brooklyn, where the class has been working at the St. Nick's Alliance and in surrounding Greenpoint-Williamsburg neighborhoods.  We've met, interviewed, gone on walks, had tea, and celebrated with community members who taught us about their lives' work.  Pat and David Dobosz are public school teachers who talked with us about the harmful social and educational effects of charter schools' division of neighborhoods, and have been very inspirational for the future educators of our class, including my fellow blogger Shira Engel '14.  Guido and Tish Cianciotta are the founding directors of Greenpoint Renaissance Enterprise Corporation, and have worked for decades to keep the Greenpoint Hospital complex serving the needs of the community; a group of students created a Wikipedia page for their organization.  Jan Peterson is a tireless (and very spunky) activist, feminist, organizer, and founder of the National Congress of Neighborhood Women, among several other activist/feminist groups; several students interviewed Jan and Tish among other lifelong residents of the neighborhood for an oral history project on the women of Greenpoint.  I could go on for pages about many more incredible people we have been so lucky to learn from.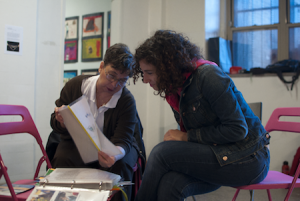 Stepping outside the classroom walls taught us things we can't learn from professors; it is a privilege to sit down with neighborhood residents and hear their stories of health issues due to environmental damage, struggles with educational equality, building rights, and organizing strategies, and we have truly come away with a new sense of what it means to be a neighbor.  As I've written before, Jan Peterson's best advice to us was "if you live here, you have to do something.  You can't just have brunch".
We all began the course wondering how West African shamanism, Brooklynite activism, Japanese dolls, Wikipedia, and Peruvian water rituals would fit together.  During our final lab, we were asked to say one word each to sum up the course: I said "us".  Any ritual, health, or healing requires a community consciousness, a sense of group wellbeing.  My classmates growing closer to each other was the overall lesson of the class:  whether you're fighting a disease, spirit loss, or a trash dump, healing comes through a healthy community; it's about us. 
For more reflections and information about the course, check out a recent article about the class here.