Jack Chelgren '15 reflects on the many contrasting performances from the Annual Organ Romp, held on May 3, 2012.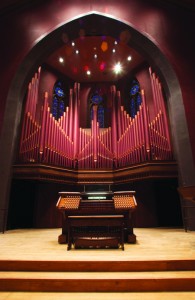 Sitting in the pews of Memorial Chapel during the Annual Organ Romp, I came to realize that I don't listen to enough organ music.  I arrived at this conclusion amid a thunderous torrent of sound gushing from the pipes at the front of the hall, as I discovered that, however doggedly I tried to divorce myself from such associations, the sound of an organ kept evoking for me a clichéd sense of impending doom or peril.  I'm a little ashamed to admit this, because I worry that it reveals in me a kind of musical callowness akin to someone who associates the saxophone with Kenny G or Beethoven with a St. Bernard, and it occurred to me that if I listened to more organ music, I might be disabused of this rather inaccurate association.  I have the sense that I'm not alone in my ignorance, however: the organ, as I understand it, holds a specific and somewhat ironclad place in the public consciousness as the soundtrack to either a church service or a horror film.  And although it was billed as a performance of "new music and non-standard organ repertoire," the Organ Romp did not necessarily reject such stereotypes about the organ and organ music, or even avoid them.  Instead, the performances seemed to contend that while the organ can and has filled such roles, it is certainly does not need to, and is in any case a vital and diverse player in contemporary music.
As if to establish right away that the concert wasn't out to topple tradition, the program opened with a few Baroque hard-hitters, beginning with a first-rate rendition of J.S. Bach's BWV 543: Prelude and Fugue in a minor, performed by Visiting Professor of Music Brian Parks.  It was an even blend of power and reserve, metrical precision and tempo rubato; swirling sixteenth-note passages hurtled furiously toward the bass—some sliding down chromatically, others descending a staircase of disjunct intervals—then leaping back up to begin the descent anew.  The fugue spooled out tightly coiled melodic threads that promptly unraveled into wider and wider intervals, phrases that were then woven together in an intricate contrapuntal braid.  Olivia May '14 followed with more Bach, BWV 615: In dir ist Freude ("In You Is Joy"), a major key chorale that glowed with a kind of autumnal wisdom, during which I realized that there is something incredibly knowing, almost prophetic, to Bach's music.  Though people often describe Beethoven as having a kind of inevitable quality to him, there is also something extremely inevitable in Bach.  Bach is lighter, certainly, than Beethoven, but no less profound.  The next piece, Buxtehude's Prelude, Fugue and Chaconne in C, performed by Vivien Lung '14, kept to the Baroque style, although, though no fault of Lung's performance, it failed to reach the same levels of insight and verve of the prior two pieces.  The prelude featured full, heavy chords and tight melodies corkscrewing over low pedal tones, but these aspects were more or less perpetuated in the fugue and the chaconne; rather than acting as independent components of the song, the latter two sections felt like mere extensions of the first.  Again, however, this slight blandness was no doubt the doing of Buxtehude, not Lung.
Then things started to get a little weirder.  Organist Daniel Parcell and cellist Jessie Marino took the stage to perform an excerpt from Vivaldi's Sonata VI for 'cello and organ, Parcell in an antiquated tailcoat, Marino looking like the Corpse Bride in a white wig and a gaudy white dress, both completely deadpan as the crowd dissolved into giggles at the sight of them.  Marino, who is a member of the experimental music collective Ensemble Pamplemousse, took the lead voice, asserting the stately, handsome melody over measured downbeats in the organ.  Yet Marino soon began "bleeding" from her mouth as she played, globs and bubbles of fake gore sliding down her chin and staining her dress.  When they finished the piece, she and Parcell took a deep, deep bow, from which Marino, as though dead, did not straighten up until Parcell gave a tug on the back of her dress.  They left the stage, still totally expressionless, to cackles and gleeful applause.
"How are you gonna follow that?" somebody asked Alex Cantrel '14 as he climbed up from the audience to perform his own composition, On Bliss Hill.  Yet Cantrel didn't seem to feel any pressure to compete with Parcell and Marino's antics; he made no attempts to be showy, but merely approached the bench modestly, sat down, and began to play.  His piece sounded a little bit like the overture to a film score, set in a lively compound meter with racing, expectant arpeggios that unfolded over a lower sustained melody.  It was admirable work, though, and lucidly rendered the sense of summery optimism connoted by the title.  Rain Tianyu Xie '14 subsequently took on the American songbook, performing Vernon Duke and E.Y. Harburg's What Is There to Say? with a weird filter on the organ that made it sound like a cross between a violin and a bamboo flute.  Xie executed the wistful, sentimental tune keenly and conservatively, and surprised me when she took what sounded like a short improvised solo between choruses of the melody.  Ashlin Aronin '13 kept up Cantel's precedent by performing a piece of his own, Elegy, accompanied on bassoon by Jeremy Webber '13.  An adventuresome work full of close, new-agey harmonies, the song set off with a free meter exposition before settling into an almost sea shanty-esque canter.
Next up was Alan Rodi '12, who had an almost playful manner onstage, quoting Monty Python—"And now for something completely different!"—as a projector screen lowered from the apse above the organ.  Rodi proceeded to play a beautiful medley of Philip Glass compositions, including the famous Mad Rush, while a clip from the 1982 film Koyaanisqatsi (itself scored by Glass) played on the screen.  Jason Sheng Jia '13 finished off the show with French organist and composer Jehan Alain's Litanies, a forceful yet light-footed piece of fleeting dissonances and resolutions, traversing musical styles from Baroque to Latin in moving toward its tempestuous climax.
With its playful, almost anarchic connotations, the term "romp" is an apt descriptor for what took place last Thursday night: a concert that both embraced and toyed with the conventions of organ music.  And indeed, the evening had a self-aware, almost Nietzschean character of accepting the very thing one knows to be flawed, at times adopting the well-known dramatic side of the organist (as did Parks, May, and Lung) and at others exploiting and lampooning it (as did Parcell and Marino).  Yet the concert offered still another direction, that of Cantrel, Xie, Aronin, Rodi, and Jia, which neither opposed nor played into the stereotypes surrounding the instrument, and it was these performances that best represented the prevailing tone of the evening: one of inclusivity, a celebration of music.