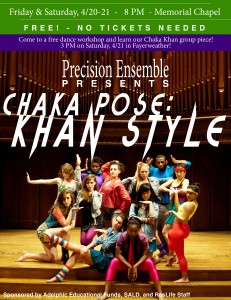 Wesleyan University's Precision Dance Ensemble presents its annual dance show, "Chaka Pose: Khan Style" in the Memorial Chapel, located at 221 High Street in Middletown, at 8pm on Friday, April 20 and Saturday, April 21, 2012. Admission is free, tickets are not necessary.
In conjunction with the show, the public is invited to attend a dance workshop and learn some moves from the show. The free workshop will be in the Fayerweather Dance Room on Saturday, April 21, 2012 from 3pm to 4pm.
For more information, please email Precision Dance Ensemble co-director Cynthia Tong '14 at ctong@wesleyan.edu.