Creative Campus music blogger Jack Chelgren '15 reviews the headlining act of Zonker Harris Day 2012, Tanlines.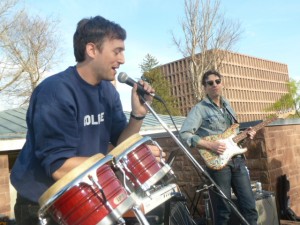 "You all have great smiles," beamed Jesse Cohen, looking out over the crowd assembled in the WestCo courtyard.  Cohen, who is a percussionist and producer, is half of Tanlines, the Brooklyn electro-pop duo formed in 2008 with singer and guitarist Eric Emm.  Tanlines was the featured act of this year's Zonker Harris Day, Wes students' unofficial celebration of psychedelia and hippie-dom and one of the more historically controversial fixtures of WesFest weekend.  Fortunately, the band seemed to know what they'd gotten themselves into.  "We got an email warning us about this event," Cohen smiled.  "Reminds me of how I spent four years of my own life."  Cohen bantered playfully with the narcotized audience throughout the show, turning adjustments to the sound system into an open "comments section" with the audience, which in turn concluded that what the band really needed was "more denim" (both men wore dark blue jeans, and Emm was sporting a washed-out denim jacket as well).  Emm was the quieter of the pair and made only a few scattered remarks, including one rather awkward shout-out for Ray Bans.  Between songs, Cohen switched on a bizarre recording of wind chimes jangling in a breeze, perhaps to toy with or indulge the blissed-out spectators.
The band put on a good show, a fuzzy, sun-splotched crowd-pleaser replete with straightforward melodies and danceable percussion.  Tanlines peddle almost exclusively in major-key pop grinds, which they spice up sagaciously with mild syncopations, calypso polyrhythms, and samples of conga drums.  Cohen and Emm aren't out to push the boundaries of songcraft and genre, and though they're often billed as "experimental pop," there's nothing in their repertoire that would pull the average listener up short.  (Cohen has noted that Brothers, a single from their new album, Mixed Emotions, reminds him of a Bruce Springsteen song.)  This is music built on simple, conjunct melodies, well-crafted choruses, and the occasional steel drum synth, but most of all, it's music built on rhythmic intensity; the secret to Tanlines' success, hallucinogens aside, is tasteful, persistent repetition.
Particularly in the moment, however, certain aspects of the performance bothered me.  Though Emm's rough and leathery voice proved just as compelling in person as on record, his pitch wavered throughout the show, particularly in the low end.  The audio mix also left a lot to be desired—from where I was standing, you could barely hear the guitar at all.  Most of all, I was struck by how little of the music seemed actually to have been performed onstage; more than once, I looked up at the stage and realized that, although a percussionist and a half's worth of rhythm section was pounding away from the speakers, neither Cohen nor Emm was anywhere near a drum or drum pad.  The effect was even more comical later on, when Emm's vocals were suddenly buttressed by a backup singer not present onstage (even though Cohen had a mic and took care of the backup vocals on other songs).  Especially in the moment, this irked me; I waxed indignant on behalf of musicians who actually subject themselves to the contingency of performing all of their music on the spot and without computerized assistance.  My mind drew parallels with the 2004 scandal when Ashley Simpson was caught lip-synching on Saturday Night Live.  I realize in retrospect, though, that the difference between Ashley Simpson and Tanlines (or rather, one among many) is that Tanlines made no attempt to conceal their tactics.  "We play a lot of stuff live, and a lot of time you can't really tell which is real and which is fake," Cohen told NPR.  "That's sort of a thing that we like to play with" (see Tanlines: Grown-Up Problems, With A Beat, NPR Music).
I acknowledge that, in assailing Tanlines' musicianship based on their generous use of samples, I'm representing a relatively conservative camp in the music world.  Maybe I'm wrong when I assert above that Tanlines aren't out to challenge listeners and their preconceived notions about music; maybe they are innovating in precisely a way that I'm not prepared for: by shaking up the expectation that good musical performance is all about creation in the moment.
In the end, my criticisms may be too harsh.  As I watched the show and mulled over my reactions to it, I was reminded of an article I read a few months ago in The New Yorker, in which Sasha Frere-Jones mounts a lukewarm defense of Lana Del Rey.  "Del Rey is not likely to be good onstage," Frere-Jones conceded, "but this puts her in the company of about fifty percent of recording artists."  It's a valid point.  On a list of qualities that constitute "good music," perfectly riveting and errorless live performances might be lucky to make the top ten.  And Tanlines, I should grant them, made a far better than average display.  Perhaps they were just having an off day.  Or perhaps it was just me—everyone else I talked to found the show "fantastic," "really cool," and "awesome."  In any case, Tanlines make an excellent listen on record and put on an exceptionally enjoyable live show, and that, when I think about it, is more than enough to ask for.
Be sure to check out footage of Tanlines performing longtime hit Real Life here at Wesleyan, as well as their remix of Au Revoir Simone's Shadows.