An interview with Ariel Lesnick '14 by Shira Engel '14.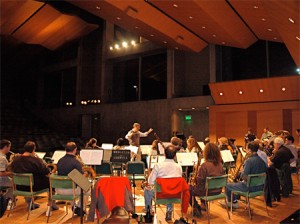 Ariel Lesnick is an enthusiastic student in the class of 2014 in the Wesleyan Wind Ensemble, WesWinds. She has been playing the clarinet since third grade and did not want to stop once she came to college. Lucky for her and for WesWinds, she got to continue playing and performing music as a part of this fun group. I interviewed her about her experience with WesWinds and how the ensemble prepared for their spring concert which took place on May 3, Rides, Dances and Chaos!
WesWinds is not simply a group for Wesleyan students; it is an integrative force that bridges the gap between the Wesleyan campus and the surrounding Middletown community. Ariel says of this coming together, "I sit next to a middle-aged man, a boy in high school, and another Wesleyan student. It reminds me that the real world exists and that music can bring people together."
Peter Hadley, the conductor, has been at Wesleyan for seventeen years. His familiarity with the group is apparent in how he gently leads them and the audience through the music with his wonderful British accent. WesWinds is a full music credit for Wesleyan students. Rehearsal is once a week on Tuesdays from 7pm to 10pm. Ariel says that in the rehearsals, it is apparent what WesWinds is all about. "What's unique to the group is that there are professional musicians and they really know what they're talking about. Then there are kids who are fourteen and their moms sit and read while we practice."
Of the concert, Ariel revealed, "We have an electric guitar soloist and he just shreds it. It's the kind of music that is fun. I hope the audience had as much fun listening as we had playing. It's hard in a concert because we know everything that went into it. We know all these components so I just hope the audience got what they wanted out of the concert. There are so many crucial factors that it is hard to take them all in. They are fun funk pieces."
And I, as an audience member, noticed that they all "shredded it." Ariel, front and center, played the clarinet with passion and talent, as did everyone else with their wide variety of instruments. It flowed seamlessly because they were having fun with the music and had an apparent desire for the audience to have fun as well. It was eclectic in a very Wesleyan way – with instruments from Home Depot (pails as drums) played next to more professional-looking electric guitars. The experimentalism entrenched in the performance was contagious and evidence of what Wesleyan students and the Middletown community are capable of as collaborators and music-makers.