Music & Public Life Intern Aletta Brady '15 talks to Kelsey Siegel '13 about MiddletownRemix: Hear More, See More – A Festival of Art and Sound, taking place on Saturday, May 11, 2013 from 2pm to 5pm. The festival will feature a commissioned flash mob dance choreographed by Kelsey Siegel to a hip-hop soundtrack created by DJ Arun Ranganathan, incorporating sounds from MiddletownRemix, at 2:30pm on Main Street between Liberty and Ferry Street. The flash mob dance is open to all levels of dancers. Learn the dance on YouTube here: www.youtube.com/wescfa and perform it as part of the flash mob on May 11 (participants should plan to arrive at the Festival Information Center, located at 575 Main Street in front of It's Only Natural Market, at 2pm, and then perform the dance at 2:30pm).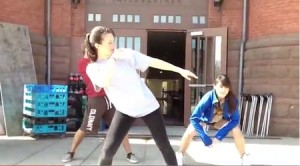 Kelsey Siegel '13 is choreographing the flash mob dance for the MiddletownRemix festival. She's enthusiastic about the dance and excited to see members of the Wesleyan University community as well as greater Middletown residents dance together. I asked Kelsey a few questions about her participation with the MiddletownRemix festival, and here is what I learned:
Aletta Brady '15: Tell me a little bit about yourself.
Kelsey Siegel '13: My name is Kelsey Siegel. I'm from Port Washington, New York. I am a Mathematics and Dance double major at Wesleyan. I am currently the director of FUSION Dance Crew, and serve as the Dance Production Coordinator for the Dance Department at Wesleyan. I have always loved dancing, and being active in general. Hip hop has been my favorite form of dance for a while, but Wesleyan recently opened me up to other forms. I have also begun to see dance as somewhat formless and rather more of a way of communicating my own, unique style with movement. 
Why did you decide to get involved with the MiddletownRemix project?
I was interested in getting involved with the MiddletownRemix project for several reasons. For one, I really enjoy working with students from Middletown, especially dancing with them. During my freshman year at Wesleyan, my dance crew would go to MacDonough Elementary School a few times a semester to dance with students in the afterschool program. Due to scheduling conflicts, however, we were unable to go after those few times. Reflecting back on it, I realized what a great time we had with the kids, and saw what a great time they had with us, and I knew we needed to find a way back into the community. I saw the opportunity to dance with students in the community again through the MiddletownRemix project, and immediately wanted in. Additionally, as an AmeriCorps volunteer at MacDonough Elementary School for two years, I spent a lot of time working with students in class and on their academic work. I realized that this project offered Wesleyan students a way of connecting with Middletown residents/students on a level that was beyond academics. I was excited to dance with students again, and to help show them how to be creative and expressive with both their bodies and their minds. I was excited to find a way for the Wesleyan and Middletown communities to connect through dance while also having fun.
Can you tell me about the dance that you choreographed?
The dance I choreographed is to the hip hop soundtrack of DJ N.E.B [Arun Ranganathan]. It has more of an old-school hip hop vibe to it, but also takes on a lot of my own style. I tried to keep the movements fairly simple and repetitive, so that anyone could learn the dance. I also wanted the movements to be simple enough for anyone to add their own style to it. I'm all about individual style, and wanted to showcase everyone's personality through this dance, especially since most of the sounds featured in the track came from the MiddletownRemix website, where anyone could upload their own sound. This dance is all about getting funky and having fun!
https://www.youtube.com/watch?v=0P22nw3II7U
What are you most looking forward to about the day of the MiddletownRemix festival?
I'm looking forward to the entire day of the festival, but especially the flash mob dance! I can't wait to see all the kids out there who put so much work into learning the dance. I'm excited to see them own the dance and have fun dancing on the sidewalk together. It's going to be awesome.
Is there anything else that you'd like to add?
Everyone should come to the MiddletownRemix festival this Saturday May 11 from 2pm to 5pm! It has something for everyone and isn't something you can find anywhere else. I feel very lucky to have been a part of this project, and cannot wait for the festival. It's going to be an incredible day.
For the complete MiddletownRemix festival schedule, and to capture, contribute and remix sounds from Wesleyan and Middletown using the free UrbanRemix app for iPhone/iOS and Android devices, visit http://www.middletownremix.org