Saturday, May 25 will be last chance to check out the 2013 Thesis Art Exhibition in the Ezra and Cecile Zilkha Gallery. The special Reunion & Commencement gallery hours are from 10am to 5pm. And there will be a reception from 2pm to 4pm, with remarks at 2:45pm. The exhibition, which features the Class of 2013's thesis students in the Department of Art and Art History's Art Studio Program, offers a compelling window into the hard work and technical prowess that went into each thesis project. The exhibition is curated by Professor of Art Tula Telfair, and is co-sponsored by University Relations.
Last month, the seniors' work was on rotation in the Zilkha Gallery: each week, five or six seniors displayed larger showcases of their work. For the year-end showcase, each senior has a smaller amount of work on display.  Each piece of art stands on its own as a testament to the artist's creativity and longstanding devotion to their work. When placed all together in this single space, though, these pieces come into conversation with each other in interesting and surprising ways.
It's hard to wrap your head around the sheer variety in media and subject matter in this showcase—in one area of the exhibit, photographs of celebrity impersonators occupy the same corridor as a huge sculpture of a chicken leg that's coated in corn flakes.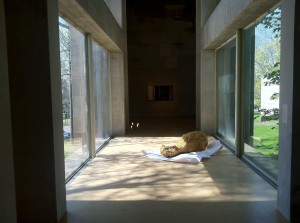 I got a chance to speak to a few seniors about the artwork they have on display in the gallery. One of the people I caught up with was Alahna Watson '13, the artist behind the aforementioned chicken leg. Her thesis, which reflects on her experiences growing up in the south, incorporates lots of different media—including watercolor paintings, computer print-outs, and sculpture. She spoke about her creative process, the inspiration behind her work, and how it feels to have her art on display.
Why did you choose the subject and medium that you did? What was the motivation behind it?
My subject matter stems from my time growing up in southern Georgia. While I was there, I never really felt like I fit in in my small, rural, insular town, and I often struggled to articulate the feeling of being an outsider in the place that I called home. I think coming to Wesleyan and meeting people from all different backgrounds, taking sociology and art classes, and, of course, talking about my life story with my friends until 5am, has finally helped me pinpoint and address the issues of class, race, and "outsiderness" that I wasn't sure how to talk about before.
When it came time to do a thesis, there was never really a question of what I wanted to do it on. I think that doing a studio art thesis is about finding something that is unique to your own experience or viewpoint and being able to share that with a wide audience. My experiences in the south have shaped my identity so much that it was bound to come out in some form or another. I was lucky that the drawing concentration is so open in terms of media. My exhibition included sculptures, computer-based print-outs, and watercolor paintings, and they were all under the umbrella of "drawing." I was glad that my ideas didn't have to be limited to just 2D expression.
What was your creative process like?
It's interesting that most of the stuff people saw in the final show was really only created in the last month or two before it went up. My adviser, Assistant Professor of Art Julia Randall, really stresses the importance of making "throw-away" drawings in order to get all of our ideas out and boil them down until only the good ones are left. There are a bunch of completely finished pictures and projects that never made the final cut. I would get an idea for a drawing in the shower or during lunch, spend days creating the piece, have it torn apart in a critique, end up throwing it away, and then return to the idea again, in a different form, weeks later.
How did it feel to be working on one huge project for such an extended period of time?
It was both exhausting and completely rewarding. Looking at some of the drawings I made in October or even over winter break is kind of like reading your diary entries from middle school—cringe-worthy. When you sit with the same idea for that long it morphs and develops and it really becomes a part of you. There was a time when I couldn't go to Price Chopper without wondering if I could use the old food wrappers blowing around in the parking lot for a drawing. You start to see everything through the lense of your thesis. I think that's what makes the final product so rich—you really have considered your idea from every angle. That being said, having so much time to think about the same thing leaves a lot of room for self-doubt. There were definitely times at 4am when I had drawn until my hand was numb that I started panicking, asking, "Do I even have a thesis? Are these ideas even cohesive? Who am I?!"
What was it like reflecting on your own background and experiences through this artistic lens?
I think one of the big things that I came to appreciate from doing a studio art thesis was that I always had to consider how my ideas would come across to people who weren't familiar with me, my background, or my work. In talking about people, customs, and culture from a specific place I had to always make sure that I wasn't being too judgmental or careless in my representations and opinions. I think having to constantly check in with myself and pinpoint exactly what I wanted to express made me reflect on my own background in an almost scientific way. By the end of the process I felt pretty detached from a lot of the personal experiences I have lived through because I was analyzing them so much.  But I think a certain level of detachment was good because it helped me put a lot of really personal stuff on display for hundreds of people to see without feeling embarrassed.
What's it like to have your work up on display now?
It's interesting that for the group exhibition people only get to see one piece from your final show. My giant fried chicken leg was the piece chosen, and I think a lot of its meaning is lost because it's out of its original context. Of course it takes on new meaning because of the other people's work that is displayed around it, and I think maybe people will pay more attention to its design and materiality now that it's a stand-alone sculpture rather than a statement inside a bigger narrative. It's a little weird having only one piece on display when the rest of my year-long project is rolled up in storage. That chicken leg is almost like a relic.
What do you hope visitors will get out of observing your work?
Like I said, I think a lot of the chicken leg's original context is lost now that it's by itself, but I hope people still find it startling, humorous, and maybe even a little uncomfortable. Fried chicken has a lot of problematic connotations in our society, which I hopefully touched on in my exhibition. By blowing it up to human-size and forcing you walk around it, I hope that, even by itself, it sparks some dialogue.