Emma Gross '15 talks to Lindsay Kosasa '13 and Cynthia Tong '14 about Precision Dance Ensemble, who performed "Can't Get Enough" on March 29 & 30, 2013.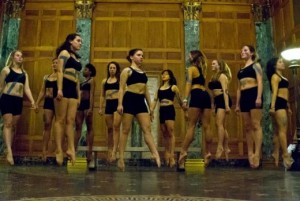 At Wesleyan, April marks the beginning of warm, Foss-sitting weather, community events such as Wesfest and Zonker Harris Day, and the bittersweet final weeks of the academic year.
April is also, however, a month that celebrates dance at Wesleyan. In the upcoming weeks, students from all dance backgrounds, with all levels of experience will showcase their talent and creative expression through movement.
Precision Dance Ensemble kicked off this month's performances with their 19th annual showcase, "Can't Get Enough," which ran March 29-30, 2013. Both shows on Friday were packed, and Saturday's performance sold out completely. This should come as no surprise to anyone who has previously attended a Precision showcase.
Precision Dance Ensemble is a subset of Precision Dance Company, a collective comprised of the aforementioned Ensemble, which performs contemporary dance; and Precision Dance Troupe, which performs hip-hop.
"Can't Get Enough" was sponsored by Second Stage, and held in the Patricelli '92 Theater. The showcase was comprised of eight dances, each of which was choreographed and performed by members of Precision. The group currently consists of seventeen women from all grades, two of whom are abroad for the semester. While the members are from a range of academic backgrounds, and only five are dance majors, the women share an adeptness for dance and a passion for Movement.
"Precision holds auditions in the fall, which are open to the entire community," explained Precision Ensemble Director Lindsay Kosasa '13. "Though our group is currently all-female, we have had male members of the company in the past. The company prides itself on the quality of its performances, so throughout auditions we look for individuals with technical skill, who can quickly pick up choreography, and who are excited about dance."
Precision is the only student dance group that performs in a formal space, such as the Patricelli '92 Theater. Ms. Kosasa noted that the strength of the Ensemble's showcase is dependent on the camaraderie, trust, and collaborative dynamics of the group.
"Following auditions, once our group has been assembled, we meet throughout the fall to bond as a dance company," Ms. Kosasa explained. "In order to present the strongest spring showcase we can, it is crucial that we are comfortable working and dancing together."
The ensemble begins technical preparation for its performance at the start of the second semester. Individuals from within the Ensemble volunteer to choreograph dances, and other Precision members preference the pieces in which they would like to perform. Ms. Kosasa, along with Cynthia Tong '14, the Liaison Director of Precision Dance Company (meaning she dances in and oversees both the Troupe and the Ensemble,) decide which members will participate in which dances.
Once the pieces are set, rehearsals begin.  Halfway through the semester, the Ensemble meets as a whole, so dancers may showcase the progress of their pieces and give feedback on each other's work.
"This informal performance allows the entire group to collaborate and make creative suggestions for the dancers and choreographers," explained Ms. Tong.
Ms. Tong and Ms. Kosasa were two of the eight dancers who choreographed pieces for this year's performance.  Regarding the process of developing a dance, Ms. Kosasa explained, "I usually take inspiration from the song I have chosen for the piece. This year, my song changed four or five times. As a result, I spent a significant amount of time in the studio choreographing the movements. It certainly speaks to the skill of the dancers I worked with that they were able to learn, re-learn, and polish a piece in only three or four rehearsals."
Ms. Tong approached the creation of her dance in a different way. "My piece centered on the theme of vulnerability and exposure," she explained. "I focused the choreography around three body parts: the neck, the under belly, and the wrists. The piece also incorporated movement with chairs, which I had never done before. The relationships I developed with my dancers granted me a certain amount of freedom as a choreographer. Their trust allowed me to explore alternative dance movements."
Ms. Tong emphasized the inherent learning experience in putting on a dance show, not only in choreographing and rehearsing a number, but also in creating a performance poster, designing a lighting scheme, and preparing the theater space.
Though Ms. Kosasa and Ms. Tong expressed that the weeks leading up to "Can't Get Enough" were fairly nerve-wracking, both were pleased with show's outcome. Audience members shared this sentiment; following Friday night's 7pm and 9pm performances, tickets for Saturday's show sold out by the early Afternoon.
"We're lucky to have an extremely supportive following," Ms. Kosasa said. "This is partially due to the expansion Wesleyan's dance community has seen in the past few years."
There are currently more than ten student dance organizations on campus. From Prometheus, a group specializing in fire art and manipulation; to Terpsichore, a dance collective whose performances seek to include as many students as possible, regardless of previous Experience; dance at Wesleyan is accessible to all interested students.
"Everyone in Precision is in another dance group, a dance class, or working on another dance related project," said Ms. Tong. "This interconnected, collaborative, and inclusive dance community makes for extremely supportive audiences."
Ms. Kosasa elaborated, "What I've learned from exposure to dance at Wesleyan is that anyone can, and everyone should, dance. I've talked to so many graduates who regret that they never participated in any dance on campus. Wesleyan's dance culture is fascinating because its community is composed of many individuals who are not classically trained, and who do not come from a traditional dance background. As a result, performances showcase new and exciting movement that challenges the definition and purpose of dance, pushing our community to heighten its creativity and stretch its understanding of this medium."