Emma Gross '15 attended a rehearsal for the upcoming production of Rinde Eckert's "The Last Days of the Old Wild Boy," which will run Thursday, November 15 through Friday, November 17, 2012. Performances will be held in the CFA Theater at 8pm Thursday through Saturday, plus a 2pm matinee on Saturday.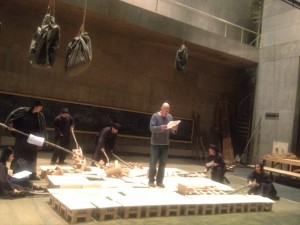 In the week leading up to Halloween, I accompanied Sivan Battat '15 to her evening rehearsal for Visiting Artist in Theater and Creative Campus Fellow Rinde Eckert's production of "The Last Days of the Old Wild Boy." Rehearsal was scheduled to run from 7pm to 11pm. When I asked how often these four-hour rehearsals were held, Sivan replied, "Just six days a week. But with opening night approaching, I assume Saturday hours will be added as well."
I began calculating the amount of time Sivan had spent in the CFA Theater since preparation for the play began in early September and how many more hours she would devote to the production in the remaining three and a half weeks before the performance. Though I was slightly overwhelmed by this work schedule, it was Sivan's next comment that thoroughly shocked me: "And we have yet to see a finished script for the play."
Thus was my initiation into the unconventional creative process of director Rinde Eckert.
Mr. Eckert is a Grammy Award-winning writer, composer, librettist, musician, performer and director. He was the finalist for the 2007 Pulitzer Prize in Drama and in 2009 received The Alpert Award for his contributions to theater. In April 2012, The Doris Duke Charitable Foundation named Mr. Eckert an inaugural Doris Duke Artist.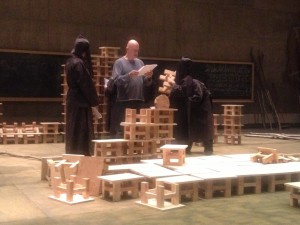 In Mr. Eckert's artist statement, he describes his theater projects as "fiercely interdisciplinary." He explains: "My work occurs on stage with lights and sound, and usually music, and is deeply concerned with language.  Using various theatrical forms to say what I have to say, I am interested more in poetic gestalt than in narrative, though there is usually a central narrative that I treat as a kind of fugue subject or governing metaphor.  I need to feel I'm learning with each new project, and that each work is a piece of a much larger puzzle.  I think I do my best work in an atmosphere of joy and critical thought, in that order. There is such a thing as soul and good theatre elevates it."
Wesleyan's Creative Campus Initiative, with support from The Andrew W. Mellon Foundation, commissioned Mr. Eckert to develop "The Last Days of the Old Wild Boy." The world premiere of this production will take place in the CFA Theater on Thursday November 15. Additional performances will run through Saturday, November 17.
"'The Last Days of the Old Wild Boy' is a story grounded in the experience of the wild child, or a man raised by wolves, who is taken and initiated into the human world," Mr. Eckert explained. "The piece takes us from the moment the boy is found, through the turning point in his life when he goes back to kill the man responsible for his capture. When the wild child meets this man, however, he finds a broken human being. Consequently, his desire to kill evaporates. The wild child is freed from his thirst for revenge, and his life opens up. The piece is about the education of this boy and his journey, as an older man, to recover his original, less conditioned or acculturated self."
The night I sat in on the rehearsal, I gained insight into Rinde's progressive, hands-on, and exploratory approach to developing this piece.
As soon as we arrived at the CFA Theater, Sivan and the seven other cast members changed into their costumes. They emerged in black canvas body suits, complete with a hood and a sheer black flap, which concealed their faces. These outfits also included side pockets filled with chalk. As one actor indicated by sketching a few circles onto his sleeve, the surfaces of the costumes, including the face flap, are entirely chalkable.
"The costumes in 'The Last Days of the Old Wilde Boy' are identical to encourage equality among cast members," explained Assistant Director Claire Whitehouse '13. "This is an ensemble production, and gender in this play does not determine character."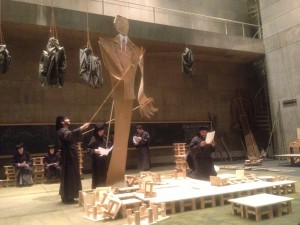 The onstage set included a chalk board that ran the length of the stage, two fifteen foot tall paper man marionettes, close to 200 tiny, rectangular, wooden stools, and three bags of peat moss that hung from the overhead beams. According to one cast member these bags, "were relatively new and their potential had yet to be fully explored."
Mr. Eckert and the cast and crew arranged the wooden stools into a makeshift platform stage. As an opening exercise, Mr. Eckert instructed the actors to read aloud a partial draft of the play's script. Roles were assigned and the work was performed with everyone seated on the platform.
Following this reading, Mr. Eckert had the cast switch roles, and recite the text again, this time moving around the set. As the actors performed Mr. Eckert's work they manipulated the onstage scenery, altered their costumes with chalk, and interacted with one another. Some climbed onto the theater balconies and maneuvered the gigantic marionettes, while others crawled on all fours and rearranged the stools to build walls, pyramids, towers, and cages.
"We have spent a lot of time learning how to utilize our costumes and the set," said Alma Sanchez-Eppler '14.  "These items' malleability and impermanence allows us to explore the relationship between our bodies and the physical space and objects around us."
Ms. Whitehouse noted this unique rehearsal and production process. "Traditional American theater is produced around a pre-made, completed text. In this play, however, action, movement, and activity with costumes and props are as important as the spoken words. Our rehearsals and specifically the way the actors interact with their physical surroundings inform Rinde's writing."
Mr. Eckert noted that while "The Last Days of the Old Wild Boy" will be completed and ready for viewers this weekend, following its performance he will continue developing and expanding it as a theater piece.
"Rinde has been great to work with," said Ms. Sanchez-Eppler. "He allows us to feel comfortable abandoning normal production steps. Rinde's leadership, dedication, and enthusiasm for his work have brought me to trust in him and his creative process."
Mr. Eckert's work at Wesleyan marks his first residency creating a production with solely undergraduates. "The students' willingness to engage in what can be a frustrating and amorphous process is exceptional," Rinde said. "They hold a beautiful combination of intelligence and enthusiasm, in addition to a level of sheer bravery. These kids are brave, which is a great thing."
The show, like its unique production process, is sure to be an unconventional, yet thoroughly engaging and exciting experience. I highly recommend stepping into the world of Rinde Eckert and "The Last Days of the Old Wild Boy" this weekend.