Jack Chelgren '15 attended the Jay Hoggard Quartet concert as part of the 11th annual Wesleyan Jazz Orchestra Weekend, and reflects on his impressions.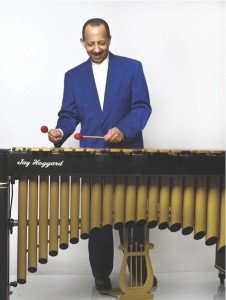 Last Saturday night, vibraphonist, composer, and Adjunct Professor of Music Jay Hoggard gave a concert that found Crowell Concert Hall more crowded than any performance I have been to all year.  The room was unambiguously packed, inundated with a healthy blend of students, families, friends, faculty, and a host of others scarcely connected to Wesleyan beyond their interest in the performance.  A student combo of musicians from the Wesleyan Jazz Orchestra (which Mr. Hoggard directs) opened the show, playing faithful but lively renditions of standards by Dizzy Gillespie, Duke Jordan, and Sonny Rollins.  There was a short lull, and then Mr. Hoggard's band took the stage, the man himself with a theatrical strut, sporting an ultramarine suit and a flashy silver vest.  Silence reigned after the initial applause had died down and the band readied its gear; you could hear people fidgeting in their seats as Mr. Hoggard took out his glasses case and slipped his spectacles inside.  Then he glanced up at the audience, as if just realizing we were there.  "Thank you, and goodnight," he said flatly, and the ensuing chuckles broke the ice.
The group opened with "Swing Em Gates," a bluesy, up-tempo chart Mr. Hoggard wrote for Lionel Hampton, one of the most significant voices in big band and an early pioneer of jazz vibraphone.  Mr. Hoggard shared the melody with Marty Ehrlich, who played soprano saxophone, and each member of the group improvised.  "Overview" followed, a slower, more expansive piece for which Mr. Ehrlich switched to bass clarinet and delivered one of his best solos of the night, a dextrous, well-crafted display that showcased his rich, vivid tone on the instrument.  The next song, "Joyful Swamp," brought out harpist Brandee Younger and hand percussionist Kwaku Kwaakye Obeng, kicking off at a breakneck pace with a scurrying marimba and percussion intro before dropping into its slinky, meandering melody, again in the vibes and soprano.  This piece, Mr. Hoggard revealed, he wrote for another jazz great, the monumental drummer Max Roach.  Next came "Soular Power," an off-kilter, lilting tune that smacked heavily of Dave Holland's quintet work with vibraphonist Steve Nelson.  This, in turn, was followed by "You're In My Heart All the Time," a duet for piano and vibes and the most candidly gorgeous piece of the evening.  The song had a stunningly spontaneous quality, floating in the air like a cloud between the performers, who, though not rhythmically or melodically in sync with one another, played with an astounding understanding and singularity of purpose.  The subsequent medley "The Right Place / Lessons from My Dad" gamboled from a nostalgic, shimmering opening into a desolate solo by bassist Santi Debriano, whose hoarsely melancholic tone recalled the throatier, more progressive side of cellist Erik Friedlander, before giving way to yet another sinuous groove led by the soprano and vibes.  "Convergence of the Niles" closed the first half of the show, a driving McCoy Tyner-esque bop on which Mr. Hoggard let loose with a fiery solo, pulling farther and farther away from the stormy rhythmic and harmonic structures of the song without for a second coming unmoored.
The group was joined by one last guest for the shorter second half of the concert, saxophonist-composer and Professor of Music Anthony Braxton, who kicked off the song "Piety and Redemption" with a soprano sax solo of his own, lashing out flurries of thirty-second notes and blur-like glissandi. Mr. Hoggard then lead the group into the world premiere of his multi-part composition Sonic Hieroglyphs From Wood, Metal, and Skin, the title of which sounds like a cross between Sun Ra and a Fluxus score.  The group played only three of its four movements, beginning with the brightly optimistic "Let Me Make It Clear (We Need Nuclear Peace This Year)" before proceeding into "Live, Breath"—a serenely open piece with brooding and dissonant undertones which featured qigong artists performing onstage alongside the musicians—and then finally to "The Mutilation of Our Mother, Earth, by Perpetual War and DISPOSABLE CONSUMPTION," a jaggedly collapsing tune à la Michael Formanek.
It was, in all, a highly memorable evening.  There were times when I wished the orchestration had been a little lighter—it could have been the room or where I sat in it, but the ensemble sound often felt rather cluttered and muddy.  I also noticed that communication among the musicians often seemed a little disjointed.  Mr. Hoggard would frequently look up to cue transitions or solos and have to struggle to get the rest of the band's attention.  Yet the group held together nicely through these rough patches, in large part thanks to the indefatigable rhythm section of Yoron Israel, Mr. Debriano, and Mr. Obeng, giving a show at once through-provokingly erudite and fundamentally accessible.
To learn more about Jay Hoggard, visit his website.  Click here to watch him performing "Joyful Swamp."