An interview with choreographer Camille A. Brown by Katherine Clifford '14. Camille will be teaching a master class at 1pm on Saturday March 10 in the CFA Dance Studio. She is the 2012 winner of the Mariam McGlone Emerging Choreographer Award, which she will receive that evening. Her company, Camille A. Brown & Dancers, will be performing three pieces at the DanceMasters Showcase Performance on Saturday, March 10 at 8pm in the CFA Theater.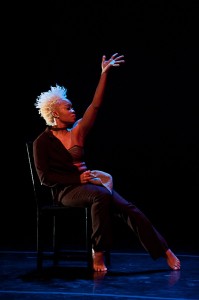 Q: What is your background in dance, and how did you come to be where are you are now?
A: I first started in gymnastics and dance, but I was terrified by the balance beam, so that negated gymnastics. I loved dancing. I also played the clarinet when I was younger. I didn't love it like I loved dance, but I think it's one of the reasons why I'm known to be very musical. I got into dance by watching Michael Jackson and Janet Jackson videos, Broadway shows, and musicals. My mom saw that I loved it, and she put me in dance school on the weekends. I didn't know it was something that I could pursue as a career until I got to high school. I attended LaGuardia H.S. of the Performing Arts and the Alvin Ailey School. Having the opportunity to be around the Ailey dancers helped me to discover that dance could be a career and that I could be paid to do what I love to do. I continued my studies at the University of North Carolina School of the Arts. There, I started getting into choreography. At the time, I was heavier than I was now; and when I first got there, wasn't always chosen to be in the performances. So like any human being, I cried a little, but then I decided I was going to make good use of my time. So I dedicated all my energy into my comp studies, and that's where I found a love for my choreography.
Q: Can you tell me about the works you will be presenting at the DanceMasters Showcase Performance?
A: City of Rain is about my friend who passed away. He had a debilitating disease that caused him to be paralyzed from the waist down. The piece is his story, his struggles, his obstacles. He was a dancer as well. As dancers, we do this every day because we love it. We never imagine that one day you can't get out of bed and walk, and do one of the things that you love the most, so I wanted to dedicate the piece to him. It's not only his struggles and obstacles, but my own too. As a friend, you can be there for him the best that you can, but since you're not going through it yourself, there's only so much you can do. So the piece is about the pain on my end, not knowing what to do for my friend.
The Evolution of a Secured Feminine is my signature solo. It's about a woman evolving into a secured woman, as the title suggests. I don't want to ruin it.
The Real Cool is from a fairly new solo from a work in development called Mr. TOL E. RAncE. It's based off a show by two African-American minstrels, Bert Williams and George Walker, called "Two Real Coons." The solo is talking about the skin underneath the black face, what is really going on with these performers as human beings. They are stepping into these caricatures of themselves, putting on this black face and putting on a role and smiling, but behind that there was a lot of pain, so the solo explores that concept.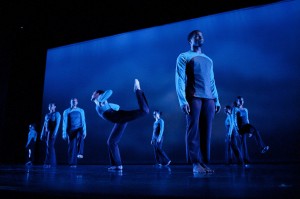 Q: How do your supporting dancers contribute to your pieces? 
A: The dancers don't contribute movement, but they contribute choices about how they approach movement. Most of our work is character-based, so I ask them to play around with their characters and make choices within the work and the structure of the movement.
Q: How do you incorporate theater and other art forms into your choreography?
A: In my work, there's no separation between dance, music, theater; it's all combined.
Q:  What can people expect of your DanceMasters Master Class, which will be held on March 10?
A: I love having a class that's fun, where people are able to release and leave whatever is going on on the outside and either bring it into the space or leave it out. My movement is a fusion of all styles: Modern, Tap, African, Ballet. I structure the class based on who's in the room, what the vibe is. It's kind of like structured improvisation.
Camille A. Brown & Dancers will be performing at the DanceMasters Showcase Performance on Saturday, March 10 at 8pm in the CFA Theater. Tickets can be purchased online.