An interview with Morgan Hill '14 by Shira Engel '14.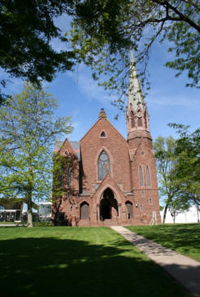 On May 3, the day after Mike Rosen's senior project was performed in Memorial Chapel, I just knew that I had to interview a member of this group he put together. Morgan Hill, a willing member of the Om Collective, sat down to talk to me about the process of putting together this synchronous, multifaceted, and interdisciplinary project.
The Om Collective, Morgan says, is "an excuse to hang out and do pretty things. It's an integration of artists from [creative campus icons like] Mad Wow, Wordsmith, weSLAM, which means dancers, poets, emcees, drummers, singers, horn players, guitarists, DJs, and sound engineers. I am honored to be included as a freshman in this group of people who decided to do performance art in a way we hadn't seen done."
Don't Hide the Madness followed the framework of a spoken word performance, but strayed suitably. It was appropriately done in Memorial Chapel, where the Night Kite Revival performed earlier this year.
It all started with a vague idea. Mike contacted a group of artists on campus that he felt were right for the mission of the project. They met at his house one late night at the beginning of the semester to discuss how their diverse talents and styles might come together. Of the collaborative process, Morgan says, "There are a lot of different interests among the members and with those different interests, we can say something new about pop culture, poetry, and art. We can perform spoken word for what it is, showing it is just as legitimate an expression as anything else. The point was to experience the Self on entirely its own terms. We got to make art in the way we really wanted to make it."
The intention of the performance, which combined spoken word, dance, singing, bass, and audience participation, had to do with Wesleyan as a creative campus, how it fosters art in a variety of forms and is part of a collective of universities pioneering a new one: poetry as performance art. Morgan explains that "slam is hyper-condensed into the past ten years." It is fairly magical that Wesleyan can play such a huge role in cultivating an art, a means of self-expression and communal appreciation, that is still legitimizing itself.
I asked Morgan what it was like to integrate all these art forms. She responded, "We wanted to provide an explanation for what has been happening on this campus. We're saying that this is something new that can be seen differently. This is where poetry can be right now; performance art as a denial of a formal structure is dangerous, but so cool, so cathartic."
She continues with what I believe to be the perfect note to end this post on: "[At Wesleyan] you have so many people that are so talented in many different ways. Why wouldn't you want to bring them together, all the time?"