Rebecca Seidel '15 reviews the exhibit "Metamorphosis: The Collaboration between Photographer Robert Glenn Ketchum and the Suzhou Embroiderers". The exhibit is on display at the Mansfield Freeman Center for East Asian Studies through Friday, December 9, 2011. The gallery is open from noon to 4pm; admission is free.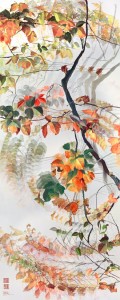 Step up really close to "Graceful Branch Movement," the most recent piece on display at the Metamorphosis exhibit, and you'll get blissfully lost in the intricacy of the stitches, the vibrancy of the colors.  Take a few steps back and you'll appreciate the depth and unity of the work as a whole.
"Graceful Branch Movement," a six-foot-tall double-sided silk embroidery based on a photographic print by Robert Glenn Ketchum, hangs from the ceiling at the Mansfield Freeman Center for East Asian Studies, where it's making its debut.  It is one of five such embroideries on display at the gallery, showcasing a prolific artistic collaboration that has spanned over two decades.
Metamorphosis, curated by Patrick Dowdey, exhibits the collaborative work of nature photographer Robert Glenn Ketchum and the Suzhou embroiderers.  Mr. Ketchum and master embroiderer Meifang Zhang began their first project together in 1986, and have been collaborating ever since.  With meticulous deliberation, they work to transform Mr. Ketchum's photographic art into pieces of Chinese embroidery.
The fusion results in incredibly textured, seemingly three-dimensional works of art.  The pieces on display at the Mansfield Freeman Center merge the natural beauty of Mr. Ketchum's photography with the intricate serenity of Chinese embroidery—an art form dating back to ancient times.
Mr. Ketchum says that despite a language barrier that prevents them from communicating conversationally, he and Ms. Zhang share a "common language" of appreciation for the work they seek to create.  This appreciation shines through in their collaborative work.
Creating these pieces takes a lot of planning, discussion, and imagination.  The final products display not only Mr. Ketchum's original artistic intentions, but also the creative visions of the embroiderers.  The highly technical process of stitching also requires concentration and precision.
"When you're experimenting with a piece like this, you can't undo it if it doesn't work well," explained Ketchum. "If you do it wrong, there's no going back and taking it apart."
"Graceful Branch Movement" arrived at Wesleyan for its international debut from Ms. Zhang's Suzhou Embroidery Art Innovation Center (SEAIC) in China.  As the exhibit's brochure states, "Robert's central vision of the super-real in nature comes out more strongly here than in any other work so far in the collaboration.  Meifang Zhang conveys a particular kind of natural beauty with delicacy and clarity in a way that leaves us enlightened."
The exhibit spans almost the entire two decades of this collaboration: the oldest piece on display, a three-paneled standing screen embroidery called "Beginning of Time," dates back to 1994.
The press release for this exhibit calls it "a visual experience you will never forget, featuring silk embroideries that celebrate a unique vision of the natural world."  The embroideries on display certainly breathe an air of magic into Ketchum's photography.  It's the type of artwork that you have to see in person, and once you do, it's pretty much impossible to turn away.
"I don't bring these pieces out very often," Ketchum notes. "They're fragile and it takes a lot of effort to get a nice display." Don't miss your chance to see these creations for yourself while you can.