Michelle Agresti '14 interviews Sally Williams '14, Elle Bayles '14, and Naya Samuel '14 about their works on the Fall Thesis Dance Concert, taking place Thursday, October 31 through Saturday, November 2, 2013 at 8pm in the Patricelli '92 Theater.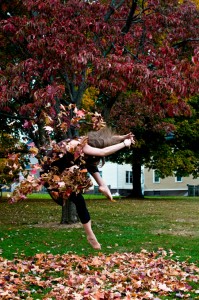 Walking into the Patricelli '92 Theater late one night last week, I was greeted with the sight of a giant web made of gold chain that stretched from floor to ceiling—no, Second Stage is not running a haunted house, it's just a set piece for the Fall Thesis Dance Concert, another big event that's happening this weekend. The concerts this weekend will showcase one half of three dance majors' theses, since a thesis in the dance major means creating two works, one for both semesters of your senior year. Sally Williams '14, Elle Bayles '14, and Naya Samuel '14 are all premiering their first dances starting Thursday, October 31 and going through Saturday, November 2 at 8pm in the Patricelli '92 Theater.
The giant gold web belongs to Ms. Williams. Her dance is depicting the way cells in the brain act when effected by Alzheimer's disease—portraying in dance the neurophysical side of Alzheimer's. The dancers will be repeating dance phrases, but mutating them and mixing them up during the course of the dance, representing how memories and tasks are scrambled. The dance was choreographed by giving the dancer prompts and asking them to come up with these dance phrases on their own, and then Ms. Williams subsequently took their movements and patterned them how she wished. The gold web is meant to evoke the interconnected web of neural pathways in our brains, and it will come apart during the dance, just as it comes apart in a brain afflicted with Alzheimer's.
"In Alzheimer's—it's interesting, you have both an accumulation of new proteins or products in the brain as well as death of the actual neurons in the brain," illustrates Ms. Williams. "So it's this kind of interesting complex of degeneration but also accumulation."
Ms. Williams choose the topic because it has both personal and academic importance to her, as she has done clinical research on Alzheimer's as well as has two grandmothers with the disease. The reason that Ms. Williams has been in a lab working with Alzheimer's is because she is a Molecular Biology and Biochemistry major in addition to Dance. She's choosing to express the more clinical aspects of the disease through dance in her thesis because she believes that as a teaching tool, this performance will reach a wider audience—and be more entertaining.
"I'm trying to use dance as a way to illustrate this very complex biology in a more accessible way," says Ms. Williams. "Because when you're sitting there listening to a fifteen minute long lecture on dying cells and dying neurons, no one's gonna listen to that. I'm trying to use dance as a medium for people to listen and learn. "
Studying both dance and science at once at Wesleyan have definitely contributed to her academically mixed thesis. The two subjects have encouraged her to think about how the unlikely pair are connected to each other. Additionally, the Dance Department itself has had a strong effect on her choreography and subject choice.
Ms. Williams explains, "The biggest thing about the Dance Department that's influenced my work is how open it is and how receptive it is to different ideas. My work is really very interdisciplinary and they are very very receptive to that."
Ms. Williams' dance this semester is part of a larger project about dance and disease. For her spring piece, she's going to be examining Alzheimer's effects from an emotional and lifestyle perspective.
Ms. Williams says "My whole big general thesis is exploring intersections of illness in American contemporary dance."
For this project, aside from her own choreography on Alzheimer's, she is researching Bill T .Jones/Arnie Zane Dance Company works during the AIDS crisis, and Mark Morris Dance Group, who teaches dance classes to people with Parkinson's.
Ms. Bayles is also exploring illness and dance, but from a quite literal psychological perspective. As Ms. Williams put it earlier, these inter-departmental projects are "so Wes."
Ms. Bayles describes her thesis as "exploring psychiatric methods through exploring choreographic methods." She is looking at how the psychological process of talking to and treating patients is related to how dance choreographers created their pieces with their dancers. She does this by using different choreographic methods with her own dancers and studying the process. For her first dance, she is looking at the choreography of Merce Cunningham and Pina Bausch.
Mr. Cunningham was a dancer under the famous Martha Graham. She was influenced by her psychologist father, who was of Freud's psychoanalytical tradition. Ms. Bayles explains that Mr. Cunningham's choreographic method, which was "very movement for movement's sake," in her words, was effected by psychoanalysis.
Ms. Bausch, on the other hand, approached choreography a different way.
"[She] is very inspired by emotion, and she asks her dancers very elaborate questions and then their choreography comes from their actual dance," says Ms. Bayles.
For her thesis, Ms. Bayles has mixed these two methods together. This combination of styles to find your own choreographic voice is something that she says the Dance Department definitely emphasizes in its curriculum.
"I was just playing around with the two types of choreography," she says. "[It] turned into sort of more about relationships and emotions changing."
Ms. Samuel, in a bit of a departure from the more scientifically oriented theses of Ms. Williams and Ms. Bayles, has choreographed a dance with an eye towards social commentary and resistance.  As a double American Studies and Dance major, this topic is something that Ms. Samuel has academically studied as well.
Ms. Samuel describes her thesis in an email: "I'm looking at the production of individuality [and the production of difference] on the American body, and how this is achieved under/helpful to the project of capitalism and the sustainment of our hegemony."
For her dance this semester, however, she is not attempting to portray abstract philosophical ideas. She is using her dancers to demonstrate and explore how the body is involved in these identity-construction battles, and how the body and dance can push back against theses forces.
She writes, "[My dance is] a literal use of bodies in relation to each other and the space they're sharing to demonstrate different power relationships and normalizations."
For the Fall Thesis Dance Concert, each choreographer has brought her own perspective to their dances. In a "very Wesleyan," as Ms. Williams put it, way, each dance brings together the teachings of the Dance Department with each person's academic interests. Between the works of Ms. Williams, Ms. Bayles, and Ms. Samuel, the Fall Thesis Dance Concert this weekend is sure to be an educational and entertaining night.
Fall Thesis Dance Concert
Thursday, October 31 through Saturday, November 2, 2013 at 8pm
Patricelli '92 Theater
$4 Wesleyan students, $5 all others