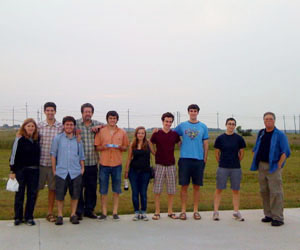 Submitted by Erinn Roos-Brown, CFA Program Manager
On June 5th, seven Wesleyan students arrived in New Orleans for a 10-day trip that will include interviews with local scientists, fishermen and rig workers. The goal is to learn from these perspectives about the effects of the Deepwater Horizon oil spill, which flowed for three months in the summer of 2010. They also plan to take a boat into the bayou to see the lingering effects of the oil spill, including a location where dolphins and other wildlife were reported dead from the toxic exposure. This trip is part of a Summer Session course The Deepwater Horizon Tragedy: A Scientific and Artistic Inquiry. It's designed to provide the students with a toolbox for exploration of the science behind the oil spill in the Gulf of Mexico and began that process prior to leaving by spending four days on campus learning artistic and scientific tools.
By asking the questions: what is oil? How is it processed into energy? Why is it still the leading energy source? The students will hunt for answers that will enable them to understand the science at a deeper level, and make their research more visible to an audience through their art, which will be produced at the end of the course as final projects.
The class is co-taught by the chair of the College of the Environment Barry Chernoff and playwright and director Leigh Fondakowski. Leigh was the Head Writer of The Laramie Project and has been a member of Tectonic Theatre Project since 1995. She is an Emmy nominated co-screenwriter for the adaptation of The Laramie Project for HBO. Her latest work, The People's Temple, has been performed under her direction at Berkeley Repertory Theatre, Perseverance Theater, and The Guthrie Theater, and received the Glickman Award for best new play in 2005.
This course is made possible by the Doris Duke Charitable Foundation and The Andrew W. Mellon Foundation.
Come back later to read more about the final projects and hear from the students about their experience!