Campus and Community Engagement Intern Michele Ko '16 discusses the CFA's student engagement strategies. 
What if arts engagement programming was like an a la carte menu. What would you pick? A talk about an upcoming performance? A workshop with the artist? Maybe an intimate lunch or dinner followed by discussion? These are all ways that the Creative Campus Initiative at the CFA is experimenting with student engagement with the arts. One could think of it like a pyramid – a three-tiered strategy that gives participants an opportunity to pick the level they are comfortable in and have a variety of opportunities to choose from.
At the base of the pyramid is the beginner level, where engagement appeals to students who have little to no knowledge of the arts or CFA programming. These students might be attending a CFA event for the first time or seeking more informal ways to interact with art. Moving up the pyramid, the intermediate level attracts students who have a bit more comfortability with the arts; maybe they are enrolled in a related course or have previously expressed interest in a particular art form. At the top of the pyramid is the advanced level, which targets students who are very invested in the arts, such as studio art and art history majors or students who create art on campus or in collaboration with the CFA. The hope is that with the right programming, students will find an appealing entry point into the arts and may potentially move up the pyramid. At every level the main goal is to encourage students to invest in attending CFA programs.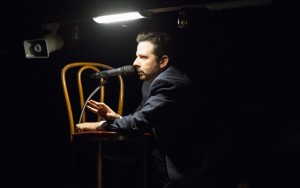 The easiest ways to engage students who are unfamiliar with the arts is through supporting course modules and co-taught courses, which emphasize a cross-disciplinary approach to teaching, learning and researching. Modules entail non-art faculty collaborating with an artist to teach two to four class sessions in an existing course. For this semester's module, ENVS 255 Getting a Bigger Picture: Integrating Environmental History and Visual Studies, Associate Professor of History Jennifer Tucker is working with Amy Lipton, co-Director of the Eco Art Space. Co-taught courses are created and taught by two faculty members, one from the performing arts and one from a non-arts discipline. This semester, postdoctoral teaching fellow Helen Mills Poulos and choreographer Jill Sigman are teaching ENVS 201 Research Methods in Environmental Studies: River Encounters.
Other beginner-level events involve facilitating informal conversations about art, such as the "Artful Lunch Series," where students and faculty discuss their favorite works in the Davison Art Center over bagged lunches. This semester's series features presentations by Professor of History and Letters Laurie Nussdorfer, Assistant Professor of Art History Claire Grace and Lucas McLaughlin '15.
Another way to engage beginner students is through social media platforms. As part of the "Lucidity Suitcase Intercontinental: '17 Borders Crossing' (Connecticut Premiere),"  the CFA invited students to participate in an essay writing contest on Facebook. By connecting to students on Facebook, the CFA reached students who may not normally engage with the CFA.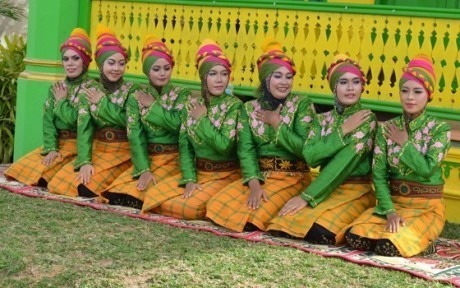 On the intermediate level, the CFA engages students who are more familiar with the arts and the CFA's work. Some of these programs also open up opportunities for students to become more advanced engagers. In conjunction with "Tari Aceh! Music and Dance from Northern Sumatra," for example, the CFA hosted a free dance workshop that allowed students to directly and physically engage with the performers, the dance form and Indonesian culture.
Dine/Dance/Discover events, which take place before and after Breaking Ground Dance series performances, seek to build a community of engaged students. The program enhances the experiences of students who are typically well acquainted with dance. The consistent set of programs also reinforces their engagement with the arts and the CFA.
Advanced engagers have a high comfort level with exploring topics through the arts and are often artistic producers or curators on campus or with the CFA. Engaging these students involves giving them the opportunities to embark on their own artistic projects or engage very deeply in the artistic process with a visiting artist.
Feet to the Fire, in collaboration with the COE and the Green Fund, gave three students the opportunity to develop their own multimedia project exploring the Coal River Valley of southern West Virginia. Rachel Lindy '15, Rachel Weisenberg '15 and Isaac Silk '14 spent the summer living in the area, interviewing residents and taking photographs. The project was put on display in Zelnick Pavillion in February. By sharing their images and stories, they hope to encourage dialogue around fossil fuel consumption.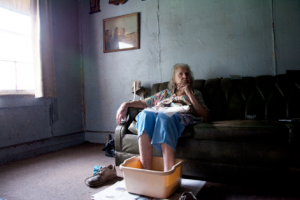 One major advanced level program is the "makers workshops," where visiting artists help students create their own art related to the artist's work, concepts or show. Last year, artist Evan Roth visited Wesleyan and participated in a makers workshop in association with his show "Evan Roth//Intellectual Property Donor." Drawing on the show's themes of open-source, activism and digital media, students identified systems and urban conditions ripe for hacking at Wesleyan and turned them into participant-driven art works. Later this semester, visiting singer/songwriter Omnia Hegazy will participate in a songwriting makers workshop on Thursday, March 26, with students interested in music and writing.
The new Design Digital Design studio, which opened in January 2015, provides a more ongoing, permanent space for art students to conceptualize and produce their own work in a meaningful way. Students interested in art, photographic, architecture, graphic design and more are encouraged to work on digital design projects in the space in conjunction with other students and faculty.
An illustrative way to see the pyramid strategy at work is by looking at how the programming of one visiting artist engages each level, such as Montreal-based Algerian singer-songwriter and rapper Meryem Saci's visit last fall. Saci engaged beginner level students through numerous class visits as well as post-class lunches, which gave students the opportunity for intermediate engagement. Saci also engaged in informal, moderated conversation with Turath House residents. Saci even attended one of the the Rap Assembly's cypher – a group of highly engaged Wesleyan rappers.
The CFA is not alone in its engagement strategy. Colleges across the country are experimenting with new and innovative ways to involve their student body in the arts. At colleges like MIT, Virginia Tech and the University of Michigan, engagement takes a number of forms, from arts-based entrepreneurship festivals to master classes with professional dancers to art-making events during Welcome Week for freshmen. Check out their events with these links: MIT, Virginia Tech and the University of Michigan. Where would you fall on the pyramid?