Michelle Agresti '14 talks to composer and computer musician Jason Freeman of UrbanRemix about MiddletownRemix: Hear More, See More – A Festival of Art and Sound, taking place on Saturday, May 11, 2013 from 2pm to 5pm. Wesleyan University's Toneburst Laptop & Electronic Arts Ensemble, directed by Assistant Professor of Music Paula Matthusen, will perform the world premiere of "MTRX" (2012) by Jason Freeman on May 11 at 2pm, 3pm and 4pm at the Green Street Arts Center at 51 Green Street.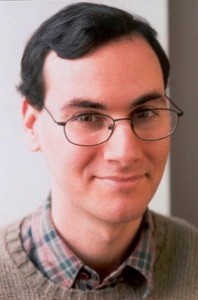 MiddletownRemix: Hear More, See More – A Festival of Art and Sound may be a one-day event on Saturday, May 11, 2013, but it is in fact the culmination of a project that has been going on since September 2012, fittingly titled MiddletownRemix. This project has had people all over the greater Middletown area recording sounds of the environment on their phone and remixing them into soundscape compositions. These compositions can then be shared, and the project can be joined by anyone here. Each month, there are certain themes: April's theme was "Forgotten/Lost," and this month's theme is "Natural." And you can listen to featured remixes and sounds here. Since this past fall, people have been creating these unique sound pieces, making what seems to be ordinary Middletown background noise into moving compilations of found sound art. In a way, it could be akin to found poetry—only using your ears, not your eyes. During the day of the festival (May 11 from 2pm to 5pm), Middletown DJ Arun Ranganathan, along with Wesleyan University student DJs Coral Foxworth '15 and William Brewster Lee '13, will remix the sounds of MiddletownRemix on the Remix Sound Stage outside It's Only Natural Market at 575 Main Street.
MiddletownRemix is made possible with software from UrbanRemix, a program with a mobile phone recording component and an internet platform for recording, remixing, and sharing final products. Its goal, according to their website, is to "design a platform and series of public workshops that would enable participants to develop and express the acoustic identity of their communities, and enable users of the website to explore and experience the soundscapes of the city in a novel fashion." It's the brainchild of Jason Freeman, Michael Nitsche, and Carl DiSalvo, all professors at Georgia Tech. I spoke with Jason Freeman, an Associate Professor of Music in the College of Architecture at Georgia Tech, who was instrumental in bringing UrbanRemix to Middletown, and whose piece commissioned for the festival, "MTRX" (2012), premieres at 2pm, 3pm, and 4pm on May 11 at the Green Street Arts Center, located at 51 Green Street. The work will be performed by Wesleyan's Toneburst Laptop & Electronic Arts Ensemble under direction of Assistant Professor of Music Paula Matthusen.
Mr. Freeman and his colleagues created UrbanRemix out of a desire to get people to pay more attention to the world around them. They wanted people to be able to rediscover and reaffirm appreciation for their hometowns and cities. Being musicians, they chose sound as the means to do this.
"We were really trying to come up with a way to help people become more aware of the sounds around them, to be able to listen to the sounds they might normally ignore and sort of block, and to actually take a moment to search for them and reflect about them—to share them," explains Mr. Freeman.
But taking "ordinary" sounds from the environment and using them to create a piece is not an entirely new idea. UrbanRemix has its basis in the "fairly old," according to Mr. Freeman, study of acoustic ecology. This art form began in the 1960s with R. Murray Schafer's work on the "World Soundscape Project," where he and others recorded the sounds of different environments and cities by just taking a recorder and listening.
Mr. Freeman and his colleagues, however, did not want to stop here.
"We really wanted to use technology to take this a step further," he says. "We really wanted to do something more active to put people directly into the sound environment and ask them to identify sound."
Well, there's an app for that. They looked to cell phones, and made a program that would turn a mobile device into a recorder. Then, once sounds were recorded, they created a web interface that made the sounds easy to not only remix, but also to share. By using phones, Mr. Freeman and his colleagues made this technology, and therefore this art form, accessible to a very wide number of people. Thus, UrbanRemix was born.
But how did it make it to Middletown? Last year, Assistant Professor of Music Paula Matthusen invited her old friend and colleague Mr. Freeman to give a colloquium to her students at Wesleyan. While here, Mr. Freeman started talking to people in the Wesleyan Music Department, and they discovered that his work with UrbanRemix really fit in with "Music & Public Life," a year-long campus and community-wide exploration that has included concerts, workshops, gatherings, and courses, all designed to cross disciplines. MiddletownRemix and Mr. Freeman's involvement in the festival grew out of that collaboration.
The reason that Mr. Freeman's work and "Music & Public Life" meshed so well together is because the "Music & Public Life" project examines how music interacts with public spheres, such as with public policy, or the digital realm, or even the community at Wesleyan and Middletown as a whole. The project is "celebrating and studying the sounds, words, and spirit of music in public at the local, national, and transnational levels."  The main goal of MiddletownRemix, aside from getting residents to hear their city in a whole new way, is to let them know and explore their community through sound. The idea is that the project will bring people closer together, and give them insight into the communal, and public, character of Middletown.
"I think it's a fun way to explore and discover the city in a way they haven't really experienced it before, and to use that as a basis for connecting with other people," says Mr. Freeman.
While MiddletownRemix itself is an on-going project that anyone can participate in at any time at www.middletownremix.org, the public presentation of remixes by DJ Ranganathan, Coral Foxworth '15, William Brewster Lee '13, and others at the MiddletownRemix festival will expose you to a Middletown you may have overlooked. Come check them out at the festival on Saturday, May 11 from 2pm to 5pm, but in the meantime, you could take MiddletownRemix for a spin yourself—see what sounds you can find!
For the complete MiddletownRemix festival schedule, and to capture, contribute and remix sounds from Wesleyan and Middletown using the free UrbanRemix app for iPhone/iOS and Android devices, visit http://www.middletownremix.org