Music & Public Life Intern Aletta Brady '15 talks to DJ Arun Ranganathan about MiddletownRemix: Hear More, See More – A Festival of Art and Sound, taking place on Saturday, May 11, 2013 from 2pm to 5pm.  Arun has been commissioned to create a 30-minute remix based on the sounds of MiddletownRemix, which will be performed live at both 2pm and 4pm on the main sound stage outside of It's Only Natural Market at 575 Main Street, interspersed with remixes by Wesleyan student DJs.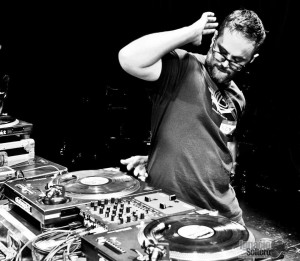 I had the pleasure of sitting down and talking with Arun Ranganathan—also known as DJ N.E.B.—a local hip hop artist, producer and DJ from Middletown's North End. DJ N.E.B. will be dropping beats on the main stage during MiddletownRemix: Hear More, See More – A Festival of Art and Sound on May 11. A beloved member of the Middletown community, he told me about his work, and why he's excited about the upcoming festival. Here are some excerpts from our interview:
Aletta Brady '15: How did you get in to DJing?
DJ N.E.B.: Friends of mine back in the day, like, 1983, got me into hip hop break dancing, and then they were like "Oh you gotta see this guy DJ," and we went out to Plaza Drive, and one of the kids there, this Puerto Rican kid named RC, used to set up his turn tables and DJ for the entire courtyard, and we'd all get together and dance, and that was when I was like "Ah man I gotta get myself a pair of those." I started in 1985, I was eleven, and then I never stopped.
Why did you decide to be a part of the MiddletownRemix festival?
I got a call from a few friends of mine saying that there was this cool remix project. My buddy Topher showed me [the MiddletownRemix] website and I signed up for it like six, seven months ago. I would go there once in a while and listen to what other people did and I was like "wow." When Erinn [Roos-Brown, Program Manager at the Center for the Arts] called me up [in the spring] and explained it to me, I just liked the idea. I've always wanted to get into recording ambient sounds like we used to do it a long time ago, just gather stuff. I like to experiment with sound and record samples through speakers or in hallways and see how it sounds. And people were gathering sounds already. All I had to do was take them and manipulate them. When [Erinn] said "do you want to do it?" I was really excited about that 'cause its something that I've always wanted to do. It's a step away from sampling records or creating my own sounds out of samples, ya know? That was a new challenge for me, something refreshing, something I haven't done before.
Tell me about the remixes that you're creating for the MiddletownRemix festival. 
So far, I have three that I've done, and I have a couple concepts for the next two. I'm going to make about three ½ minute pieces, but I'm going to be DJing them live, so they'll end up being five minutes a piece, 'cause I'm going to do some turn-tableism with them. I just try to be inspired by something, so I just go through the samples that I grab from the [MiddletownRemix] website, and I don't really have any plan, but when something is just like "Oh yea that was really cool" I'll experiment and something happens, something comes out of it. [One] song was inspired by my friend Brian, he's sort of like a grumpy artist around here, and the recording that the person got was perfect, 'cause they were like "hey talk" and [Brian] was like "no, we've already been through this, stop recording," and I thought that was hilarious, 'cause it illustrated him, so I made a beat, and then just used that as the main. Another one that I most recently made was entirely off of sounds, I got somebody banging on a table for a kick drum, and I created a snare out of it, and somehow somebody made a weird sound with their mouth, and it sounded like a high hat, and I strung together a piece called "bells," the St. Johns Bells, and that sounded really cool. It also incorporated a sample of a kid, a rougher sample. The contrast of these kids getting into trouble and the pure bells in the background seemed like a cool contrast.
How does the MiddletownRemix project connect with your community?
I'm recognizing people, and I know a lot of people that uploaded stuff. I'm familiar with the ambient sounds, it reminds me of my neighborhood and it just feels good that I'm able to do that, living in that neighborhood, using sounds mostly from that neighborhood. It's truly a collaboration, because I'm using other people's recordings which [is] fun. It's a lot of fun. I feel like I'm connected to my community even more now,  'cause I can take audio samples and make a piece out of it.
What are you most looking forward to about the MiddletownRemix festival?

I hope that people come out and recognize things that I sampled, and maybe like "ah that's something I recorded." I'm looking forward to being able to just mix my own pieces that are from that environment and hear it loud. That's the best part of it all.
For the complete MiddletownRemix festival schedule, and to capture, contribute and remix sounds from Wesleyan and Middletown using the free UrbanRemix app for iPhone/iOS and Android devices, visit http://www.middletownremix.org