Michael Darer '15 takes on "Voices of Afghanistan," a CFA concert hosted last Friday, September 28 in Crowell Concert Hall.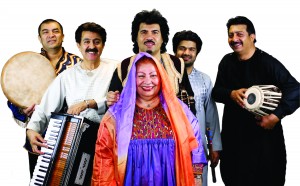 It's very easy to take the power and ubiquity of Western music for granted. For many of us, it's the only music we hear. When we turn on the radio, the television, when we go to the theater, the majority of the music we encounter stems from our corner of the world. Of course, this is an incredibly blinkered view and even those who find themselves beholden to it are often aware of its influence and limiting power. Even so and despite the vast opening of the world which the digital age promised to herald in, we still find ourselves immersed in the familiar.
I know that I myself am guilty of this in spades. Anyone who took an hour to explore my iPod or my computer's music library would be hard pressed to find anything that couldn't be, in some way, categorized as Western, European, Anglicized or something along those lines. Even the most "foreign" music that most of us encounter is filtered through a lens describable in the aforementioned terms. Hell, we're at a place where Vampire Weekend's use of "African" music in their own compositions is seen as groundbreaking, despite the distinctly westernized feel of the end result.
This past Friday, the Wesleyan CFA made an attempt to expand our musical horizons, as Crowell Concert Hall paid host to a magnificent performance dubbed, Voices of Afghanistan.
Voices graced its audience with a twelve song set by some of the most renowned Afghan musicians in the country, including vocalist Ustad Farida Mahwash, of whom the New York Times wrote: "[her] beautifully expressive voice retains remarkable range, flexibility, and soul-searing intensity. And her spirit continues to soar." Accompanying Mahwash were Homayoun Sakhi, a critically acclaimed rubab (a lute-like string instrument and the national instrument of Afghanistan) player and the Sakhi ensemble. Together, the group lit up the evening with an ethereal and potent set of intricately woven songs, which both entranced and educated listeners.
When I entered Crowell that evening, I had absolutely no background on Afghan music, whatsoever. In the past, I'd heard bits and pieces of different music from the general region but I'd never been given much information on those snippets and certainly didn't have the chance to sit down and analyze any of them.
According to the group's website, which has been incredibly helpful in giving me background on their stylistic rooting, much Afghan music is based on a dialogue of questions and answers, known as sawol-jawab. Though not limited to music, the concept has found itself deeply ingrained in much of the work that the Voices ensemble does.  Suggesting that only the most thoughtful questions can truly find answers, sawol-jawab, creates an incredibly complex lyrical and thematic foundation within many pieces of Afghan music.
The result, as displayed on Friday, is nothing short of breathtaking. Each of the pieces played possessed a unique rhythm and texture, a wholly distinct relationship between the instruments and vocals, as well as an individualized relationship between the instruments themselves.
Many, if not most, of the songs rested on Homayoun Sakhi's rubab, which provided the pieces with a galloping energy, its twang both earthy and electric. Throughout each and every piece Sakhi displayed an incredible sensibility for the passions of his fellow musicians, surging and backing off in volume at various points so that the sounds of other instruments might poke through to deepen and expand the disposition of the music.
The most arresting feature of the music, however, came from the vocals as provided by Mahwash. Whereas a great deal of music tends to segregate vocals from instruments, this was not the case with Voices. Mahwash's crisp lyrical voice swooped and dove alongside the cascading strings, weaving amongst the different sounds until it seemed like just another instrument. Despite my inability to understand the language, Mahwash pulled me in like few singers I've witnessed. Her voice itself seemed to be the meaning of the lyrics, a visceral poetry that transcended whatever literal meaning her words conveyed.  As it wound its way around the jack-rabbiting melodies, I felt as though I was within the music, surrounded by the labyrinthine compositions, as they exploded outwards from the instruments.
The group's website explains to readers that Afghanistan "is home to a stunning array of musical genres. Each is distinct, yet they all share a vibrancy and depth indicative of their importance in the larger fabric of society." Over the years, the site reveals, these various genres have intermixed, classical pooling into folk song, and traded an increasing number of motifs and techniques. When listening to Voices, this is not hard to believe. The beauty of the music filling Crowell that night was not simply it's overarching sound, but rather, the underpinnings beneath each grand note, the feeling that below every superficial sonic gesture were thousands upon thousands of cogs in one great musical machine, that as the compositions pushed forward they did so naturally, hundreds of symphonic organs pulsing and prodding, each an individual contributing to the showcase on display.
The true wonder of the music that I heard on Friday was that each piece existed simultaneously as one solid experience and as the sum of many smaller movements, sounds, and sensations, working together. While seeming deceptively simple, each song seemed to cover immense ground and touch on more than seemed possible given only six musicians.
Even for those who may not have been as wildly enthusiastic as I was about the show, I would posit that something, even if it was just one thing, of interest poked it's head out of that music to grab the attention of each listener. I would guess that each and every audience member found something in that music that they hadn't seen or heard or felt before, didn't have access to in their familiar musical repertoire. And if I'm right about that, even if I'm wrong about everything else I felt about this music, then I think Voices of Afghanistan can be called a resounding success.