Sarah Wolfe '12 interviews Alma Sanchez-Eppler '14 about her upcoming play "Junk Redemption," opening this Friday, May 11 through Sunday, May 13, 2012 at 8pm, in front of the Whisper Wall (on Washington Terrace).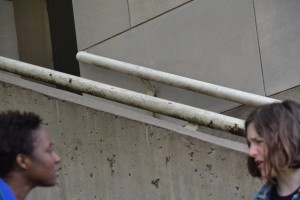 This weekend Second Stage is presenting a new play, written and directed by Alma Sanchez-Eppler '14. The play, Junk Redemption, goes up Friday through Sunday at 8pm in front of the Whisper Wall (located on Washington Terrace) in the Center for the Arts. Earlier this week I sat down with the student playwright to discuss the play, the process, and her aspirations as a playwright. The process of writing the play began in her Intermediate Playwriting class as an exercise in character driven playwriting, which was a new experience for Ms. Sanchez-Eppler. But as the writing process continued, Ms. Sanchez-Eppler found that historical facts from her own family history had trickled into the piece.
"It wasn't until after the play was pretty much done and I was just editing it that I realized how much it relates to everything my grandmother has done in her life."
The play follows the life of an isolated artist as she is discovered by a Baltimore gallery. Flashbacks narrate the story of why the artist began her work of creating sculptures out of available junk. Ms. Sanchez-Eppler calls the play "an homage" to her grandmother, who is currently suffering through the early stages of dementia.
"[My grandmother] was a social worker, and that's a pretty big aspect of the show, and she was a tour guide in the New York Folk Art Museum for a very long time. She's one of the most imaginative people I know. I love being around her because it is necessary for me to have an immediacy to my interactions with her. It requires a presence of being and a presence of mind and not much concern for referencing anything in the past."
Ms. Sanchez-Eppler notes that she is someone who tries to find all of the interesting places on the Wesleyan campus, which is why Junk Redemption is not going up in a more traditional theatrical setting. The Whisper Wall, on the back side of the CFA facing Washington Terrace, is an interesting, if little known, architectural structure of the CFA. From the outside it is a semi-circle of concrete with a tree in the middle, but if one person stands inside the wall and whispers, the sound resonates so that a person standing on the other side can hear every word perfectly. Aside from this semi-magical feature, which is impossible to feature in a theatrical production, Ms. Sanchez-Eppler still felt something appropriate about the space for this particular production.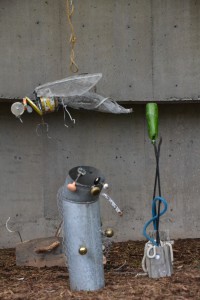 "It feels like you've entered this other world. It doesn't feel like Wesleyan when you're in that sort of enclosure, that semi-circle. The set required a tree and there was a tree there. It provides a natural stage."
Ms. Sanchez-Eppler is a first time director, and spoke to the challenges of directing her own piece, which is what most student playwrights must do in order to show their work.
"I was lucky enough in high school to have one of my plays I wrote then directed, and it was really nice to push the bird out of the nest and just have it happen without me being there. I'd love for people to want to direct shows of mine. That would be dreamy."
However, as she moves forward at Wesleyan, she is particularly interested in collaborative theater making. She cited Augusto Boal and The Medea Project as particular examples of theater that inspires her. Both tie into another focus of Ms. Sanchez-Eppler's: work that is done creatively around prison reform. She has worked closely through her time here with Professor of Theater Ron Jenkins, whose classes bring students to local prisons to learn and teach about social activism through theater. She hopes to continue to have chances to learn about and create collaborative and empowering theater in her time at Wesleyan and after.
Come see Junk Redemption this weekend! The show is free and unticketed, so show up at 8pm at the Whispering Wall on Washington Terrace. Don't miss this wonderful example of student creativity at Wesleyan!