A statement from composer Stephanie Richards of Asphalt Orchestra for the performers and witnesses about her work for the Common Moment, Trading Futures: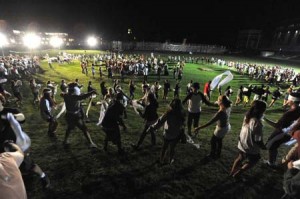 Essentially, futures trading can be defined as such: investing in or against the future success of a given commodity.  Last Friday, as a community, we embraced the present moment and began the mission of investing in the success of our futures. We embraced alternative and creative ways to appreciate the very things that fuel our daily lives. A tin can became a musical instrument, a dance partner, an artifact of industrial design: a collective heartbeat.  We examined the place newspapers and the media have in our society and questioned their intentions and reach of power. Embracing the importance of education, statistics, and questioning our sources for information. Becoming a vessel for theatrical emotional expression, we literally roared in frustration from the overwhelming mass of media disinformation, ripping our newspapers in half and in the end moving collectively as a community toward one, same, unified goal: the success of our future.
Earlier that day, you discussed the determinacy of oil, and its limited future.  That we are dependant on a commodity with a limited lifespan foretells a future we very well need to trade. In embracing creative alternatives (through art, education, science), we will find a solution. You discussed the disappearance of wetlands of Southern Louisiana and their inherent loss of culture as a result. And yet we performed a piece of music last Friday with rhythms and homage to the Zydeco musical tradition, encouraging the longevity of a vibrant part of American tradition.
It was important to me that we challenged our ideals of what constitutes a musical instrument and challenged preconceived notions of what could be considered art.  It was also a priority to use recycled and highly recycle-able materials in consideration for the future we owe ourselves and future generations to come.  Tin cans, fabric and newspapers were donated from both the Wesleyan community and Materials For the Arts in New York City.
Each instrument and choreography that you all performed has meaning to me conceptually and compositionally. But I will wrestle my urge to explain the abundant literal and abstract meanings I have envisioned and encourage you to find your own message in each movement and instrument. Ultimately, its significance and beauty exists only in your consideration and embrace.
Lastly, I'd like to thank Pamela Tatge, Barbara Ally and Erinn Roos-Brown at Wesleyan's Center for the Arts for making the event possible.  I'd like to thank Mark DeChiazza for his creative insight and collaboration in choreographing the event.  And lastly, thank you to Asphalt Orchestra and Wesleyan's class of 2015 for the privilege of composing for you and performing with you.
A full score complete with aerial images of choreography and directions are posted on my website for you all.