Shira Engel '14 interviews Allison Hurd '11 about how a summer internship was connected to an on-campus production.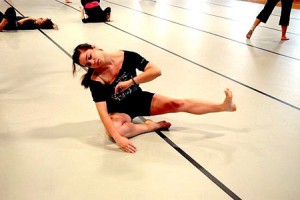 During the summer of 2009, Allison interned for the Reggie Wilson/Fist & Heel Performance Group while the company was collaborating with Andréya Ouamba's Compagnie 1er Temps of Dakar, Senegal. They created The Good Dance – dakar/brooklyn, which premiered at the Brooklyn Academy of Music. She spent every day with the artists and attended every rehearsal, discussion, and event. After the festival, she began working in Brooklyn and then, in the spring of 2010, she acted as the student liaison for the company's performance of The Good Dance at Wesleyan.
Curious as to how to bridge the gap between summer activities and being a Wesleyan student, I asked Allison how her experience as a dance major informed her internship. She said:
"I think that because the Dance major fosters an approach to the art form not only from a physical, but also from a creative and an intellectual perspective, I was able to more fully apprehend how my experience as an intern touched upon all of these areas.  Because The Good Dance is about the metaphoric, historical, and real world parallels of the Mississippi and Congo Rivers and their cultures, the anthropological nature of the work resonated very strongly with me, and was augmented by the artistic partnership of Reggie and Andréya.  I was also able to engage with the piece's structural and compositional elements, recognizing the choreographic tools used by Reggie and Andréya and implementing aspects of their artistry into my own.  The Dance major (and, really, in its own way, each academic department at Wesleyan) encourages creative curiosity, collaboration, and the acquisition of knowledge through experience.  I feel very strongly that my internship's alignment with these aspects of my Wesleyan education powerfully contributed to its success."
Allison provides an excellent example of how to connect the education she received on campus on a practical level off campus. She exemplifies the creative pursuits of Wesleyan students. The key lies in the ability to translate the experiences from a campus community to a larger audience and then back again.