Katherine Bascom '10, the Russell House 2010–2011 Arts Fellow, interviews Barbara Fenig '11.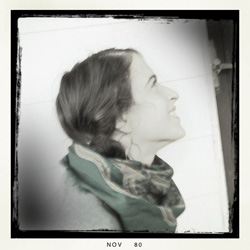 Barbara graduated this past Sunday, May 22, but will be staying at Wesleyan for a post-graduate year as the Shapiro Center/Russell House 2011-2012 Arts Fellow. Congratulations Barbara!
You've got some serious writing skills. Tell us a little bit about your creative thesis.
This year, I wrote a collection of linked short stories that revolve around breaks in normalcy. In the stories, the corporeal has magical powers: lips take on supernatural abilities, the brain houses the reality of the afterlife, and heartlessness becomes a medical condition.
Who inspires you to write?
Aimee Bender and Amy Bloom, Andre Aciman, Paula Sharp, Douglas A. Martin, and Deb Olin Unferth (my Wesleyan writing professors).
What plans or ideas do you have for your post-grad year at Wesleyan as the Shapiro Center/Russell House Fellow?
As next year's Shapiro Center/Russell House Arts Fellow, I look forward to planning the reading series and to hosting events for Wesleyan's writing community. I am hoping to establish a series of informal workshops where students can get to know one another. Students will write for a bit and then share their work. I'm hoping that different faculty can offer a few prompts, either in person or before the event. As a writing student at Wesleyan, I really appreciated the writing community and am eager to cultivate new outlets for students to share their work.
What anticipations do you have about spending another year at ol' Wes?
I'm really looking forward to being at Wesleyan next year and am thrilled that my day to day will be spent in the Russell House, the Shapiro Creative Writing Center, and Downey House– my favorite spots on campus.
If you could have any author or poet come to Wesleyan next year, who would it be & why?
I can't choose! I'm just so excited to see what the calendar will offer!
Tell us about your summer plans.
I'm traveling to London, Paris, Aix-en-Provence, and Venice for a few weeks after graduation. Then, I'm a member of the student staff at the Wesleyan Writers Conference. I'm taking a course at Columbia in July and will be back at Wesleyan in August. It'll be a lovely summer (fingers crossed!).