An interview with Samantha Joy Pearlman '11 by Sarah Wolfe '12.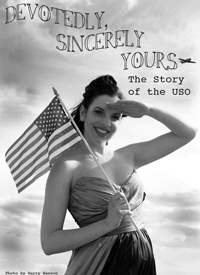 This Thursday, April 7 and Friday, April 8, the Center for the Arts will travel back to World War II to experience the life of an American woman who participated in the USO Camp Shows. The solo performance, titled Devotedly, Sincerely Yours: The Story of the USO, counts as the creative component for Samantha Pearlman's senior thesis in the Theater Department. Sitting down with Pearlman last week, we discussed how she came to this topic, the history of the United Service Organizations (USO) Camp Shows, Inc., and the process involved in putting on a show at Wesleyan.
The story follows the style of the USO's radio broadcasts, which featured Hollywood stars like Bing Crosby, Judy Garland, Lena Horne and Bob Hope singing to American soldiers all over the world, as well as telling jokes and humorous anecdotes. Pearlman's character and the host for Devotedly, Sincerely Yours is based on the career of Louise Buckley as a USO entertainer.   Pearlman came across the character through a letter Buckley wrote describing her experience as an entertainer.  Pearlman describes the find as, "an 8 page, single spaced letter, one of the most beautiful letters I've ever read, and she just poured her heart out about her experience overseas and what it was like living there. A lot of the text of my show is taken from the letter."
Pearlman also draws on a variety of sources for the text of the performance, inspired by the work of playwright Charles Mee, who wrote Big Love, which Pearlman acted in her freshman year.  She comments that, "he works in collage and assemblage… I always kind of wanted to do something like that, and so this project for me was my chance to get my feet wet in creating some kind of piece of musical theater, and then also taking all the tools I've learned as an actress here." Pearlman took Professor Ron Jenkin's "Solo Performance" theater class which granted her the skills to create and star in this one-woman theatrical event.
Due to Pearlman's strong musical background, she was able to challenge herself through this performance by utilizing her voice and musical theater abilities to express the broad range of emotions needed for a powerful show. The songs chosen come from wartime periods between 1915 and 1945.  She found these after long searches through the Music Division of the New York Public Library, Olin Library, and eBay purchases from "people who are auctioning off what's in grandma's attic, and have no idea what they have."  Sorting through approximately 300 songs, she managed to narrow the numbers down to eight that will be performed as a part of Louise's story.
It was easy to see Pearlman's enthusiasm and love for the project while she spoke about the process. She spoke with exceptional ardor about the music, stating that it was the part of the performance she most looks forward to. She's been working with senior Ian Coss, a banjo player, who Pearlman describes as an "amazingly talented, unbelievably dedicated music student", and they have met together since last semester to compile and arrange the music for the performance. The show includes an eight piece, all-male band.  Each of the men in the ensemble play a soldier who might be watching and experiencing the performance. "I remember, the first band rehearsal [when] they played the opening fanfare of the show . . . I literally was just beaming, I couldn't believe that this was happening."
Pearlman, eager to share her work states, "I'm excited to have the opportunity to present my work and have a lot of fun with it, and hopefully make people think about American identity, American wars, and especially about being an American woman." The show presents American culture and history through an artistic form that will present enthusiastic Wesleyan students.  Not to be missed, Devotedly, Sincerely Yours represents the end of Pearlman's career at Wesleyan, but a stunning ode to what the time at Wesleyan can allow a student to create.
"Devotedly, Sincerely Yours" plays April 7 and 8 in the CFA Theater at 8pm. Admission is free, but tickets are required. There is a two ticket limit per person. Tickets are available on the day of each performance at the box office, located in the Usdan University Center, 45 Wyllys Avenue, or by calling (860) 685-3355.
The other ensemble members include Ian Coss '11, Jack Gallagher '12, William Frakner '14, Jacob Hiss '13, Myles Potters '12, Owen Callahan '12, Issac Silk '14, Daniel Moakley '13, and Zachary Rosen '11. "Devotedly, Sincerely Yours" is also inspired by, or takes texts from, Louise Buckley, Grace Drysdale, Maxine Andrews, Ann Miller, Lena Horne, Judy Garland, Arch Oboler, Robert B. Westbrook, Tampax Incorporated, Woman Power Campaigns, the National Center for PTSD, Four Jills and a Jeep, the USO Camp Show Inc. "Guide to the Foxhole Circuit," Command Performance, Mail Call, BBC Radio Broadcasts, and the USO Camp Show Inc. Publicity Records (1941-1945), among others.