Matthew Chilton '16 talks to Adjunct Assistant Professor of Music Nadya Potemkina about directing the Wesleyan University Orchestra, who will perform Wolfgang Amadeus Mozart's Overture to "Don Giovanni" and Pyotr Ilyich Tchaikovsky's Symphony No. 4 at a free concert on Saturday, November 16, 2013 at 8pm in Crowell Concert Hall.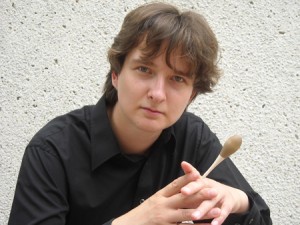 Russian week at Wesleyan reaches its apex tonight when the Wesleyan University Orchestra performs under the direction of Nadya Potemkina. Ms. Potemkina has deep roots in the Russian classical music tradition, and this will be her inaugural performance as conductor of Wesleyan's student orchestra. We sat down in her office to talk about her musical life, the formative experience of Tchaikovsky's symphony, and making music from both sides of the podium.
When you were growing up, did classical music feature into your home life? How did you find your interest in it?
My parents were musicians, and I grew up in a very small town in the Leningrad region. My family moved to St. Petersburg when I started school, but when I was a kid I was growing up in a small town. There wasn't much to do there for children, but we were fortunate enough to have a music school, a small program. I had a choice of violin, piano, choir singing, and playing accordion. Violin just seemed closest to me at that point. I was five at the time, and it went pretty well. I changed to viola when I was twelve. Pretty soon I couldn't see myself doing anything else besides music.
I've been in a similar place since I started playing electric bass at the age of eleven, then getting interested in more and more instruments as I came along.
How did you get your start in conducting, more specifically? Were there any concerts or moments when you realized "this is my calling, this is what I want to do?"
Well, it's interesting. This moment sort of relates to the program that we will be playing tonight. When I was studying at the Pedagogical College in St. Petersburg, we all had to take classes in choral conducting. And I liked it, but I never thought even of trying my luck with a symphony orchestra. At that time, it wasn't something a woman would do easily in Russia. But when I came to the United States for my Master's Degree in Viola, taking conducting lessons was easy – you didn't have to be anybody special, you could just sign up for class and practice with a teacher and a full group as well.
For one of my final tests in that class, I had to conduct the first few pages of the first movement of Tchaikovsky Symphony No. 4. I remember the opening brass fanfare just had such an impression on me that I had never experienced this feeling of being in the center of the sound. I was very impressed and thought that, "wow, this is something that I would like to try again in the future!" So I decided to continue my studies in conducting.
I'm really interested in that notion of the relationship between the conductor and the performer – like what goes on on either side of the podium, and the fact that you were able to experience the sound in a different way as a conductor. What's it like to create music from both sides of the podium, and how has it influenced the way that you think about music?
Conducting most definitely changed me as a performer, and I'm trying to keep my viola playing skills in shape. I continued playing through my six years of study for a doctorate in conducting. It has its own pros and cons, you learn so much about the technical side of conducting that you see each and every nuance in another conductor's work. You see all the things that go bad also, so at times I started to notice that I find myself following conductors a little too closely. A section is staying more like a group, they at times ignore some of the stupid things conductors do and save the performance [chuckles]. You know, we all make mistakes but I had to consciously think about staying with a section while I'm playing, not just following all the little things I see out there.
As a conductor, I think it's very important that I do play an instrument actively, because I know what to ask for from players. I'm trying not to demand something that I feel might not be possible at the moment, and chances are that I know the technique of a string section better. I can word my requests in a more precise way.
You've touched on a lot of things that I find very interesting about the classical ensemble, but there are certainly some people I speak to who don't understand the role of the conductor. Which is pretty interesting having played in an orchestra and realizing how much work goes into getting an ensemble ready in rehearsal.
Any words for people who may think that a conductor is just a "timekeeper?"
Timekeeping most definitely is a very important part of the process. You do need to be able to keep time, keep in certain tempos, and start in a certain tempo right away. But performance consists of so many other parts – it's a very complex puzzle, and the younger the orchestra is…When you're working with professionals, chances are that they already know how to play certain things, and all they want from you is to tell them what you want to hear – what quality of sound, what mood, what tone color, and all that. But with students, it's very important to be able to explain to them what technical tricks and tools may help them to get that certain sound and mood, as well as to be able to demonstrate them. Also, on the other hand, we wouldn't want to be too technical, dry, and robot-like. So when the concert comes, it's very important to just be able to let it go. To let them be artists, and stop dictating every note and everything.
In light of that, what are some different types of groups you've worked with? How does that background approach how you lead the Wesleyan Orchestra?
I was very fortunate to have worked with both youth orchestras and professional orchestras as well. I served as an assistant conductor in summer festivals with professional musicians, and participated in workshops conducting professional groups. But also, I directed a couple youth orchestras over extended periods of time. It teaches you both the technical and educational side of things, as well as the performance and artistic-creative process. At Wesleyan, we have students who are in the orchestra who come from very different backgrounds, and they are at different levels of technical abilities. I feel like having experienced both worlds, I hope I'm able to bring it all to one common, golden median – to bridge any gaps there might be.
Wonderful! Striving for unity, that big cohesive orchestra sound. Moving back to Saturday's program, there's the "Don Giovanni" overture, then Tchaikovsky Symphony No. 4 – are there any notes or experiences you've had with this music that inform your interpretation, or any sort of working moments where the students have taught you new things?
Hmm, interesting. I feel like whenever you work on a piece with a new group of musicians, it's different. It doesn't matter how many times you have done it. As I said, I first started studying Tchaikovsky ten years ago, and I have done the whole piece for the first time last year. So it's my second time approaching the entire composition. And it's never the same, you can never say, "I've played it before and it's not fun for me anymore." Players always bring something from their side of the music. They all have different difficulties with certain spots, and they treat solo melodies differently also. It's all new for me once again, because all the players are different and they are new. So it's a completely fresh reading of the piece. I'm not sure even how to compare it with the past, because it's always new.
I love how there's always that changing relationship between the stable notated materials and the music brought to life by the orchestra. Thanks so much for your time and words, Nadya.
You can find out more about the music and the people bringing it to life in the program notes for the Wesleyan University Orchestra's Fall Concert.