Take a Deep Breath and Open Your Ears
A preview of "Rainforest IV" and "Lighthouse, beside the point"
Michelle Agresti '14 talks to University Professor of Music Ronald Kuivila about MiddletownRemix: Hear More, See More – A Festival of Art and Sound, taking place on Saturday, May 11, 2013 from 2pm to 5pm. The world premiere of Professor Kuivila's sound installation commissioned for the festival, "Lighthouse, beside the point," will be located in the glass pavilion atop the Community Health Center at 675 Main Street. Professor Kuivila and Wesleyan University music students are also reconstructing David Tudor's "Rainforest IV" (1973) inside of 635 Main Street.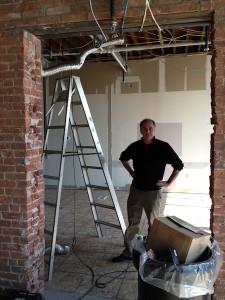 For MiddletownRemix: Hear More, See More – A Festival of Art and Sound on Saturday, May 11, Wesleyan University Professor of Music Ronald Kuivila will be premiering his sound installation "Lighthouse, beside the point," as well as realizing  David Tudor's sound composition "Rainforest IV." To interview Professor Kuivila, I visited the future site of "Rainforest IV," which is in an abandoned storefront on Main Street. I watched with curiosity as Ron briskly strode across the unfinished floor, past the roughed up dry-wall, and in between bare pipes stretching from the ceiling, setting up a speaker. While I followed him with my recorder, Ron explained his vision and purpose for the installation.
"[It's] based on this idea that loud speakers can be themselves instruments," Professor Kuivila explains. "The idea of 'Rainforest' is to take objects from the junk pile, say a door, oil drum, bicycle rim, and turn them into loudspeakers that have their own distinctive voices."
The way that Professor Kuivila would accomplish this is by attaching a transducer, or the coil and magnet from inside of a loudspeaker, to the part of the object with the most resonance. The way speakers work is by that coil causing a piece of cardboard, or some other light material inside the speaker box, to vibrate back and forth—"Rainforest IV" just replaces the cardboard with a door, or an air duct, or suit of armor. Then, sounds (but not composed music) are broadcast through the transducer, causing the object to vibrate and give off a unique voice.
The abandoned shop front at 635 Main Street will soon be filled with objects like this, all of which will be giving off sound at varying times and volumes. The "performance" is always going on—for hours at a time. People will be let into the room on Saturday, May 11 from 2pm to 5pm, and allowed to wander at will.  Professor Kuivila says that "Rainforest IV" experiences tend to go like this: the first half hour is spent touring all the pieces ("like a science fair," he says), then it shifts to a "cocktail party"-like atmosphere with people chatting with each other, and finally, about 45 minutes in, everyone settles down and really begins to listen.
"You become acquainted with these objects, which have sculptural properties. It really is like a sculptural installation," he describes. "You're becoming aware of them through the sounds they are producing, and becoming aware of their physicality through that sound in a way that you would find difficult to do without the sound. The composer David Tudor described [that] his goal was for a tuned environment."
This work is "Rainforest IV;" there are also "Rainforests" I-III, all composed by David Tudor, from 1968 to 1973. These works (especially "Rainforest" and "Rainforest IV," the only two that are recorded) have been re-created and performed at various places.
Even though the production of "Rainforest IV" in Middletown is in the preliminary stages, Professor Kuivila was still able to demonstrate part of the installation. Taking the speaker that he had been plugging in all over the room in search of a working outlet, he feeds the microphone connected to the speaker into a silver tube, which is attached to a long pipe on the ceiling. Discontent with the sound produced, he screws off the silver tube and just puts the microphone into the pipe. The pipe, he tells me, is connected to the outside of the building.
"If you actually listen, you can hear the outside filtered through the resonances of the pipe. It's generally quite beautiful," says Professor Kuivila.
Listening to the loudspeaker, the noises of cars honking, trucks driving by, and children yelling are converted to haunting, lingering versions of themselves. Ron is unsurprisingly right: the ordinary sounds of afterschool traffic are transformed into something captivating. I remark that the particular reverberations we are listening to sound like the background to a horror film—but that's just me. As it turns out, individual experiences with this piece are important.
In fact, according to Professor Kuivila, "the point of the piece is to create a situation where everyone has a very unique and original encounter with the soundworld." With construction barely started, I was able to have my own, in a compelling way.
As for "Rainforest IV" as a whole, Professor Kuivila says, "it's really a piece about learning how to do electronic music. It's a piece to teach people about this idea of hearing sounds not as part of a tonal continuity, but as kind of complete in themselves. It's a way of thinking of music not based on the voice, but based on the world."
Professor Kuivila is also putting up his own original work commissioned for the MiddletownRemix festival, called "Lighthouse, beside the point," in the beautiful glass pavilion atop the new Community Health Center at 675 Main Street. "Lighthouse" is based on transferring some of the phenomena of looking out a lighthouse into a soundscape. He uses "very very" directional speakers, that shoot sound out in very specific streams—you have to be directly in line with the sound stream to hear it, mimicking the very specific sightline of the light of the lighthouse.
"I was interested in this idea of connecting sightlines to particular sounds that would somehow reveal what you're looking at," explains Professor Kuivila.
Additionally, in the room, which Ron describes as furnished "like a set from 'Mad Men,'" there will be old-fashioned telephones placed around. They will ring occasionally, and once picked up, will broadcast half of a word into a person's ear. The other half of the word will be broadcast by a speaker into the room. While the sound broadcast into the room will sound like a vague noise, the syllables coming through the phone will make it recognizable—if you're listening with both ears.
"You're having to listen in this way you never do with a telephone, " says Professor Kuivila. Instead of just focusing on what is coming through the phone, like we would normally do, you are forced to expand your attention to the environment around you.
In fact, this "direction of attention," a phrase that Ron used a variety of times during our interview, is very much a part of not only "Lighthouse" and "Rainforest," but it is a major theme of the entire MiddletownRemix festival. Professor Kuivila describes the event as a way of creating an alertness to the sounds of Middletown, instead of ignoring them as part of daily life. It is using sound to raise aural awareness and lead people to appreciate the world around them more.
"Because we live so much texting and looking at little things here," says Professor Kuivila, indicating his phone, "we tend to lose sight of the extent to which our giving our attention over to something can become a very powerful and beautiful experience."
For the complete MiddletownRemix festival schedule, and to capture, contribute and remix sounds from Wesleyan and Middletown using the free UrbanRemix app for iPhone/iOS and Android devices, visit http://www.middletownremix.org